Corporate Events
Birthday Parties
Arrive & Drive

Fun for the
Whole Family!

BOOK NOW
WE MAKE IT EASY TO PLAN
YOUR PARTY AND CELEBRATE
WITH FRIENDS!
Birthday Fun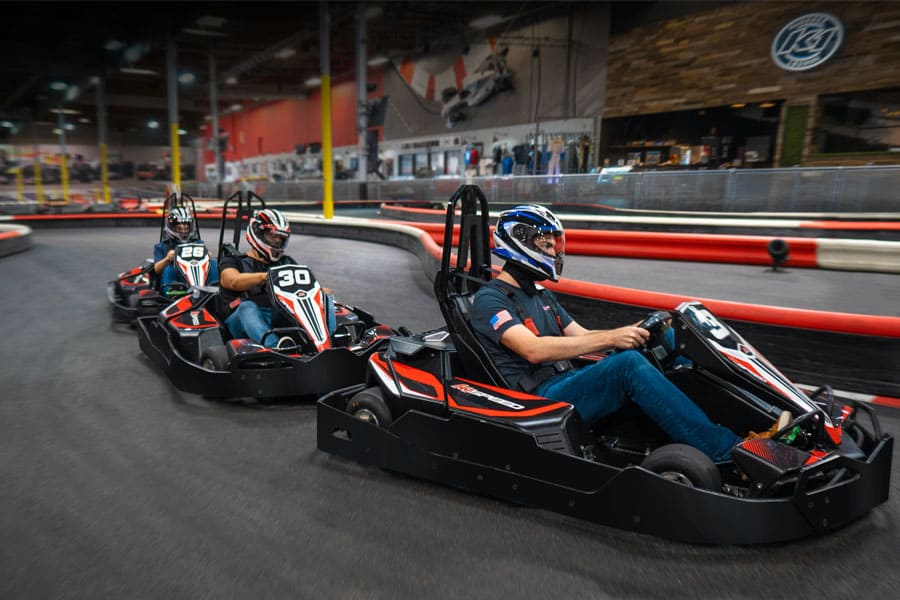 Corporate Events
Birthday Parties
Arrive & Drive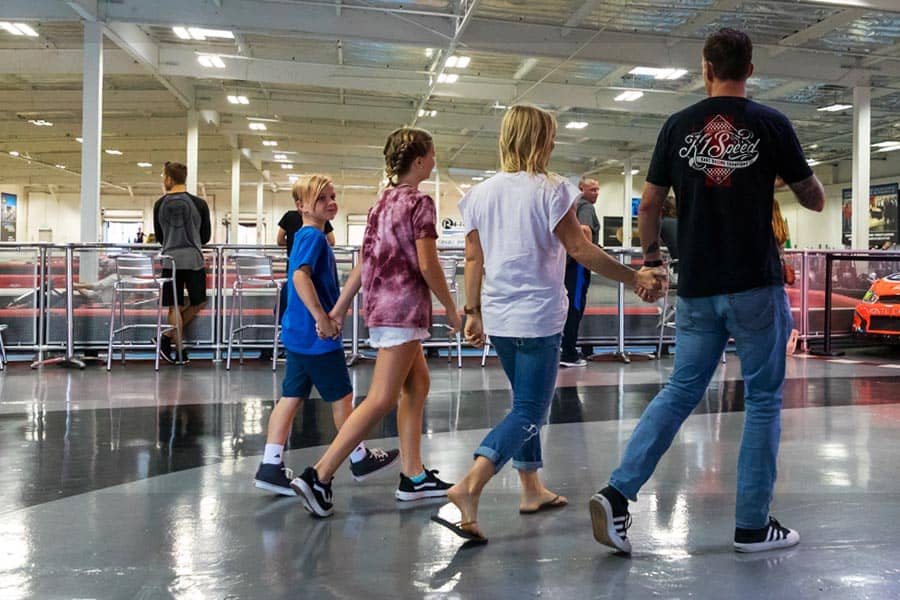 Fun for the
Whole Family!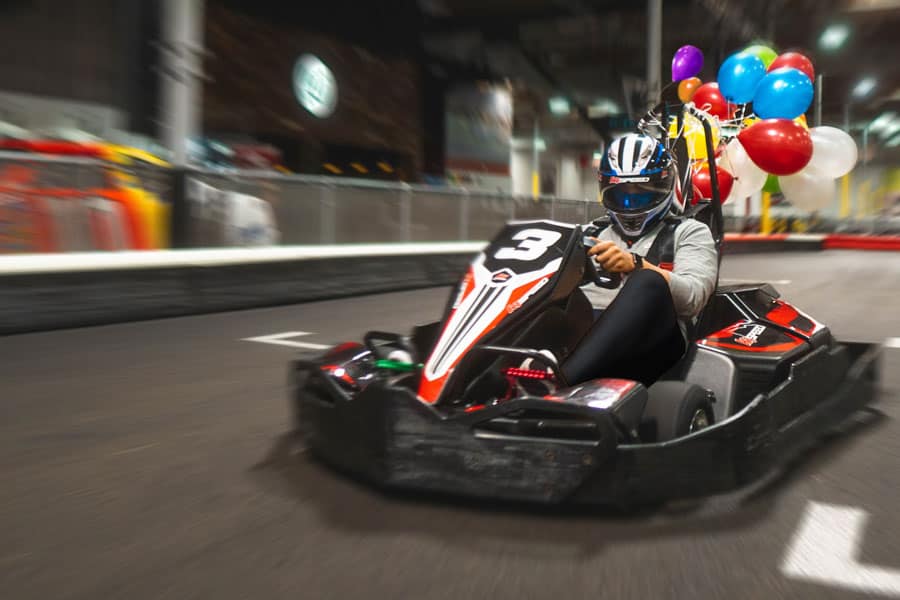 BOOK NOW
WE MAKE IT EASY
TO PLAN YOUR PARTY
AND CELEBRATE
WITH FRIENDS!
Birthday Fun

NOW ACCEPTING PRIVATE GROUP RESERVATIONS
Indoor Go Kart Racing Ontario, California
Once home to a major motorsport venue in the 1970s, Ontario Motor Speedway, Ontario is now home to one of the best indoor go-karting locations in the country: K1 Speed, Ontario.
Our 85,000-sq. ft. location is home to not one, but two indoor asphalt courses for double the occupancy and even less waiting. Track 1 offers a challenging series of technical corners, while Track 2 delivers a variety of fast and slow corners that is perfect for the novice or child. The K1 Speed, Ontario location also offer two distinctly different meeting rooms – one with leather couches for a laid-back social gathering, or a traditional meeting room with tables and chairs for parties and company events. Our on-site Paddock Lounge restaurant offers delicious food and refreshing beverages for all ages, while our video arcade and tabletop games keep the entertainment going.
Known as a fun thing to do near both San Bernardino County and Riverside County, Fontana, Rancho Cucamonga, Upland, Chino, Pomona,  Ontario Mills, Toyota Arena, Victoria Gardens, and Ontario Airport, K1 Speed Ontario is the perfect destination for company functions, corporate events, hosting special events, or for a daily dose of adrenaline. And if you're in town for an event at the Auto Club Speedway, we're just a mere four miles away. Come race with us today!
One of the best indoor go kart tracks in Southern California!
Arrive & Drive Racing – Race Any Time
Though we offer a number of race packages that are ideal for special events, team building exercises, and corporate functions, the public is invited to come in anytime during regular business hours and enjoy the thrill of indoor go-karting. At our Ontario location, we operate not one, but two tracks. With the exception of private closures and our monthly Challenge GP series, these tracks are open to the public for Arrive & Drive racing. Simply show up, suit up, and race! Our high-performance electric karts have 20hp motors and produce maximum torque from 0 rpm, and are an absolute blast to drive. If you're accustomed to lawn mower-powered karts that are heavy and cumbersome, be prepared to have your entire outlook on go-karts changed!
Group Events for Any Occasion
Do You Have the Mettle? Test Your Skill
An Arrive & Drive race consists of a battle against the clock with up to 11 other drivers on the track. Rather than race for position, which rewards luck and blocking skill as much as it does pure driving talent, our time trial races demand consistency, skill, speed, and strategy. Setting a fast lap time often involves navigating around slower drivers and creating a window for yourself on track so that you can set a fast lap time unimpeded. If you get caught up in a neck-and-neck battle, don't be surprised if the back-and-forth action hurts your lap times! Just like in Formula One, the key to setting a fast lap time is often getting as far away from other drivers as possible.
Racers at our K1 Speed Ontario indoor go-karting track can purchase a single Arrive & Drive race or a combo pack of 3 races. There are also K1 Speed gift cards available if you want to purchase races for a friend or family member. During the race, competitors can track their performance in real time via live telemetry, and after each race, a competitor's overall ranking is updated, showing his or her rank in comparison to the more than one million racers to have hit the track at K1 Speed.
We encourage you to come in to K1 Speed Ontario today. Our indoor go-karting location is conveniently located for residents of the Inland Empire, including Southwest San Bernardino County and Riverside County. To enquire about private closures, please feel free to call. We look forward to seeing you soon!
Bday party for our sons 13th bday. So much fun! Everyone had a blast. We had never been here prior to this bday and the staff made it all very easy to understand. Guests arrived between 5-5:30pm, everyone registered by 5:40, raced at 6pm sharp. Mid-week party so we had the entire place to ourselves. Guests lounged in party room, racers played arcade games before, between races. Ate pizza and cake after races. Us parents will definitely return to race without the kids. Everyone had a blast. Ty K1 Ontario team.

I like it snd I am coming back with my family again.

Manuel R. M.
05:29 02 Jun 23
Kids had a great time. Staff is very professional. We thoroughly enjoyed our time there.

Awesome time, only complaint was the steering and some of the unsafe driving. I thought there was no contact racing.

Super fun place, found my new go-to 🎉

First time, it was cool, my son turned 12 and we just walked in signed the waiver and did a few laps. Little arcade was cool. Got to definitely go back soon. Staff was friendly and helpful

Great place to have fun with friends and family! I'll definitely be back!!

Madison A.
03:52 12 May 23
K1 go carts I'd the place to go if you want to race, the staff was helpful and the cars were pretty fast. I would recommend K1 to anyone that wants to race bring your friends or family for a great race time.

It was a fun great experience to have my birthday celebration at K1 my only concern was lack of communication on site. The microphone used for announcement muffles the announcer voice so much that we could not understand what was said even when standing next to the speaker yet alone in our private room so we never new if we were being called to race. I would definitely go again but would like this issue resolved for a better experience

Has a blast with my daughter...

Our car club had a great time at this track. Lots of smack talking afterward!

Michael P.
20:31 08 May 23
I loved it and it was my first time there

Lorraine F.
21:34 07 May 23
Ontario Newsletter Sign Up
Be the first to know about special events and promotions.