Corporate Events
Birthday Parties
Arrive & Drive

Fun for the
Whole Family!

BOOK NOW
WE MAKE IT EASY TO PLAN
YOUR PARTY AND CELEBRATE
WITH FRIENDS!
Birthday Fun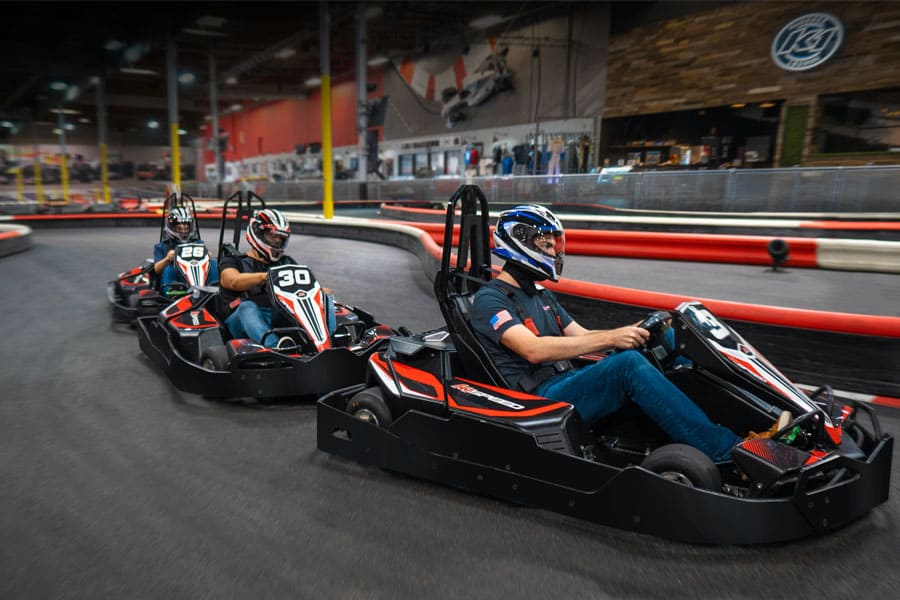 Corporate Events
Birthday Parties
Arrive & Drive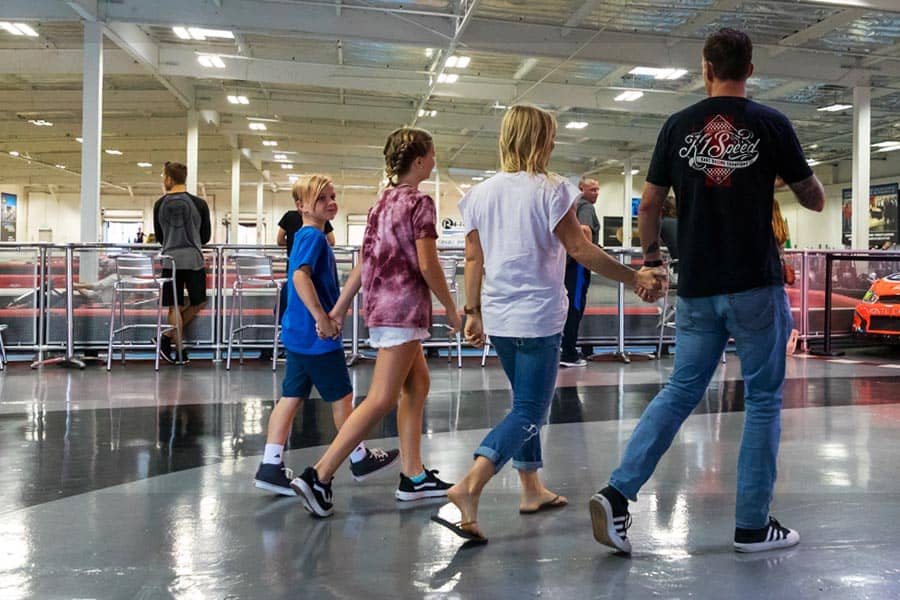 Fun for the
Whole Family!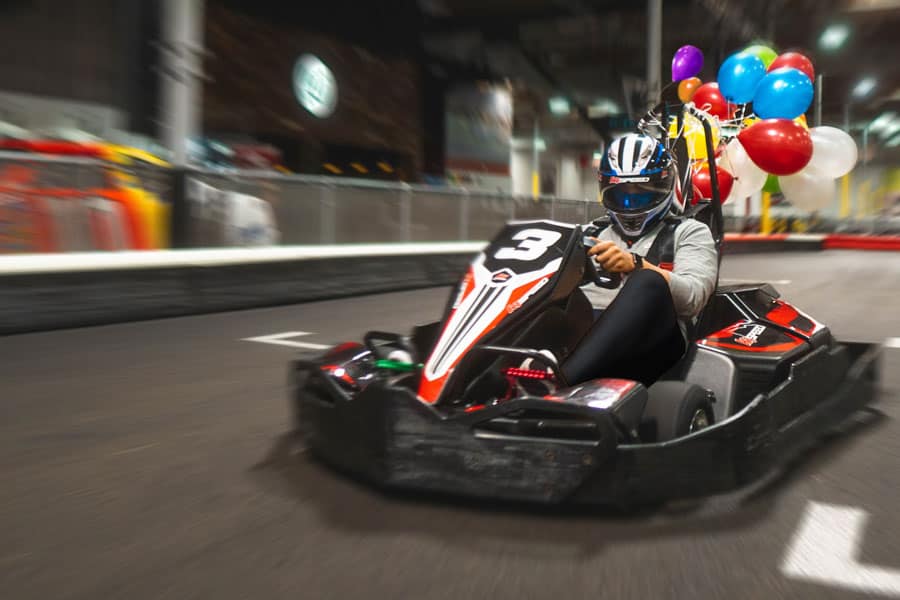 BOOK NOW
WE MAKE IT EASY
TO PLAN YOUR PARTY
AND CELEBRATE
WITH FRIENDS!
Birthday Fun

NOW ACCEPTING PRIVATE GROUP RESERVATIONS
Indoor Go Kart Racing Irvine
If you're looking for things to do tonight in Orange County with thrills and excitement, you're in the right place! At K1 Speed Irvine, the public can enjoy indoor go-kart racing on not one, but two professionally designed tracks. Our Irvine karting location is one of our largest and is a fantastic place to spend a Friday evening with friends or Sunday afternoon with family. Our aim is not limited to building just go-kart tracks; we want to design world-class entertainment venues that everyone can feel comfortable in. Traditional outdoor tracks are often unkempt, there are tires everywhere, the awnings are falling apart, and they smell of gasoline. At K1 Speed, we have plasma screen televisions and leather couches, museum-quality collections of racing memorabilia and art, and our own Paddock Lounge that serves food and beverages for all ages. We can assure you that K1 Speed will redefine what you think of go-kart tracks, and you will never go back!
If you want to experience indoor go-kart racing, the Arrive & Drive package offered at K1 Speed Irvine location is for you! We invite you to come in today; K1 Speed is definitely a fun thing to do near South Coast Plaza, the District,  Irvine Spectrum, UC Irvine (UCI),  Diamond Jamboree, John Wayne Airport, Mission Viejo, Costa Mesa, Tustin and Santa Ana.
Arrive & Drive Indoor Go-Kart Racing
Our locations are open to the public every day of the year, with the exception of private closures. Anyone who meets our height requirements (please inquire) and is able to safely operate our electric go-karts can race at K1 Speed. If you're looking for an adrenaline rush or would like to challenge your friends to some wheel-to-wheel action to see who's fastest, we are confident that you will not be disappointed in what we have to offer! Our kart tracks are professionally designed and our electric karts deliver superb performance. Capable of speeds approaching 45mph, and with driving position mere inches off of the ground, driving our karts is as close as you can get to racing a Formula One car without an FIA license! And yet, with remote shutoff capabilities and available power modulation based on the driver, our karts are equally suited to amateurs and veteran enthusiasts alike.
An Arrive & Drive race consists of a timed event against the clock, with up to 11 other drivers. Racing against the clock in equal machinery puts everyone on equal footing, which means that winning the race will require talent and consistency, and not simply blind luck and defensive driving. Setting a fast lap may involve mirroring the driver in front of you to analyze his or her racing lines, or finding an open spot on the track so that you can concentrate without interference from other drivers. Whichever strategy works for you, our on-board data analyzers don't lie and you'll be able to track in real time how well you are faring against the competition! Indoor go-kart racing at our Irvine locations is a genuine thrill and don't be surprised if you find yourself opting for our three-race pack after your first race is complete!
Arcade Games, Pool Table, Air Hockey & More!
Go karts aren't the only thing there is to enjoy at K1 Speed Irvine! We've also got a video game arcade that includes The World's Largest Pac-Man, Mario Kart VR, Space Invaders Frenzy, Galaga Assault, Cruis'n Blast, Halo Fireteam Raven, Connect 4, and more! Plus, we have air hockey, a punching bag, basketball hoop, and a pool table so you can play billiards / 8-ball with your friends! And don't forget prizes! We've got claw machines and token games you can play to redeem for fun prizes. In short, there's something for all ages in our arcade!
Eat & Drink at the Paddock Lounge!
With all these fun things to do inside K1 Speed Irvine, you're going to get hungry and thirsty. And thankfully, we've got a place for you onsite to make a pitstop and recharge. Introducing our Paddock Lounge!
Our Paddock Lounge serves all the classics you crave, such as cheeseburgers, nachos, flatbread pizzas, chicken wings, and more. Plus, we serve a large assortment of non-alcoholic beverages like soft drinks and Red Bull energy drinks. And for adults, we serve beer and wine!
We invite you to come in today to experience the thrill of indoor go-kart racing. Our Irvine location is one of two K1 Speed locations in Orange County, and is conveniently situated for Mission Viejo, Costa Mesa, and Santa Ana. If you live in Northern Orange County, you may find our Anaheim karting location is more convenient. We hope to see you soon!
The Best Event Venue in South OC
K1 Speed Irvine is the best event venue in South Orange County! No matter the reason, we can put on an event or party that your guests will never forget. These include, but are not limited to:
Such a fun an organized event for a Birthday Party. They did a great job! We can't wait to go back!

My son and I go to K1 often but a couple things prevent us from going more... 1]The check in process is atrocious and shouldn't take 30 min +- to check in. 2] need to pair experienced drivers and less experienced with less experienced. Some less experienced drivers can cause serious accidents.

First time racingImpressive facility.

So fun … I let my 14 year old daughter ditch school and we came here.. best ditch day ever!

Was first time and enjoyed myself more than I thought I would, but would have loved to get a briefing on how carts worked and rules, ect.

Everything was well done by the staff. I was in a race that had a lot of spins so we were slowed often. Most disappointing was the results only showed 1 lap… for the whole race. Still a lot of fun.

Fun times every time we go here. It can get VERY busy on the weekends so be prepared to wait, the food is not bad to keep you busy. Or just hit the arcade.

Nicholas S.
23:12 12 Jan 23
The staff at Oxford K one is always wonderful. The Legacy Center in general is a great place

Had an amazing time, the staff were all really kind and very good at their jobs. Would 1000% recommend this to anyone with a need for speed!!

Always a fun and safe time.

Good place to go for some fun driving and challenge your driving skills. Only drawback is that they do pair you up with drivers of different skill levels, so expect to get hit or have some slower runs. For those hoping to beat or set the best time for the day, try setting up something with your friends so that only you and your friends are occupying the track during your races.

Fun time - had to wait a bit too long but once we were on the track we had a great time!!

Richard Y.
21:54 04 Jan 23
Irvine Newsletter Sign Up
Be the first to know about special events and promotions.