Corporate Events
Birthday Parties
Arrive & Drive

Fun for the
Whole Family!

BOOK NOW
WE MAKE IT EASY TO PLAN
YOUR PARTY AND CELEBRATE
WITH FRIENDS!
Birthday Fun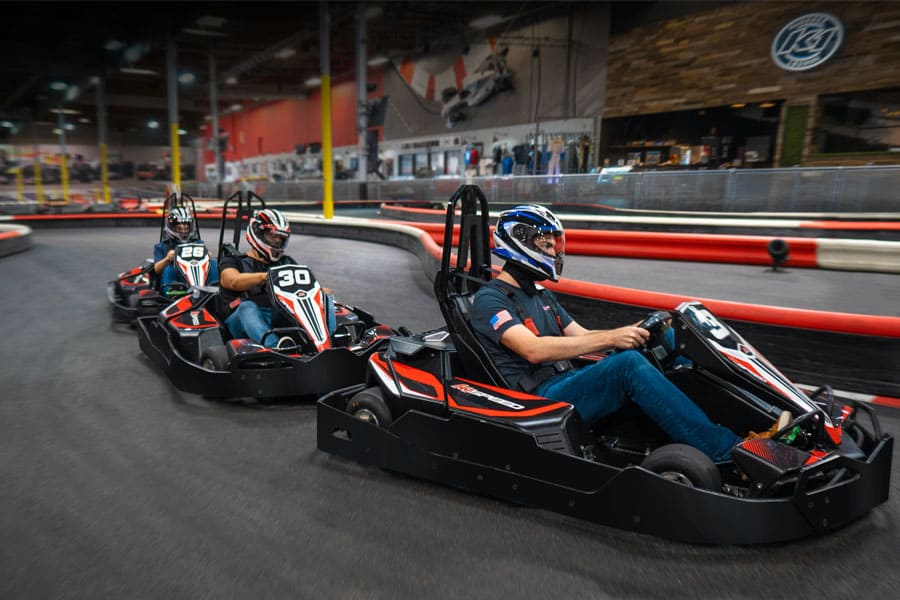 Corporate Events
Birthday Parties
Arrive & Drive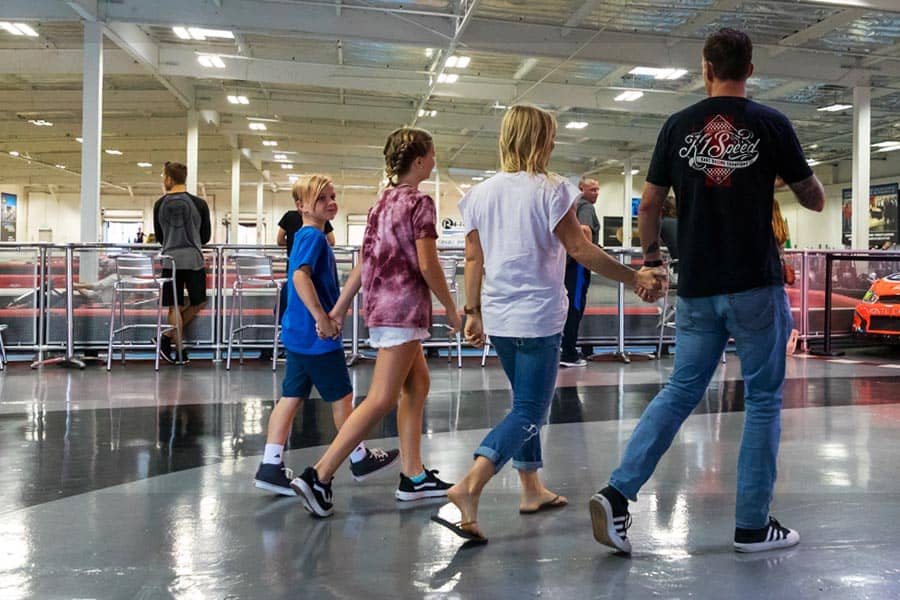 Fun for the
Whole Family!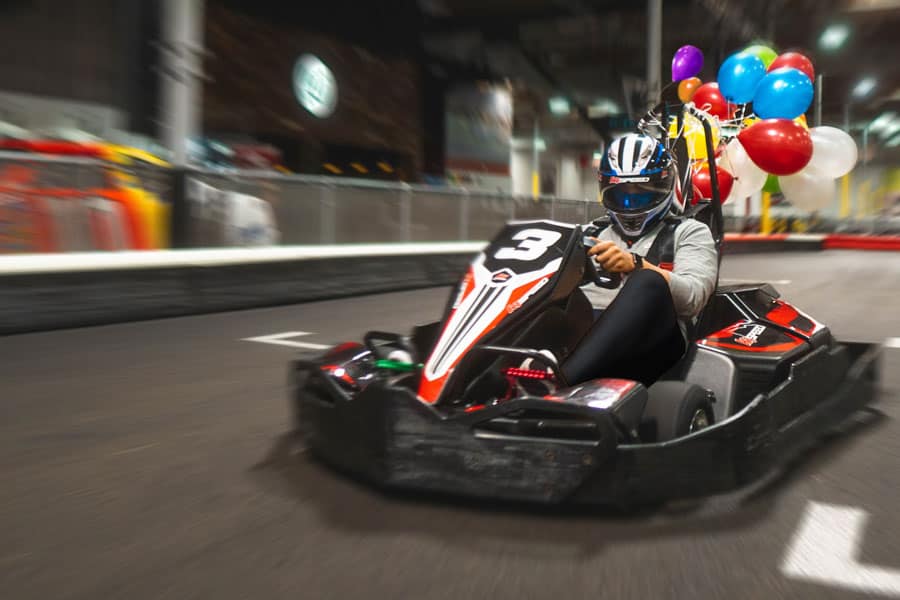 BOOK NOW
WE MAKE IT EASY
TO PLAN YOUR PARTY
AND CELEBRATE
WITH FRIENDS!
Birthday Fun

NOW ACCEPTING PRIVATE GROUP RESERVATIONS
Indoor Go Kart Racing Torrance, California
Wheel to Wheel Racing in West Los Angeles
Racing enthusiasts in West Los Angeles can satisfy their adrenaline needs with indoor go-kart racing at K1 Speed Torrance! Our karting location is conveniently located for residents of Long Beach, San Pedro, Gardena, Redondo Beach, and all West Los Angeles. If you want to compete head-to-head with friends or family, we invite you to come into K1 Speed Torrance and put your skills to the test. We are dedicated to providing our guests with an authentic racing experience, and we are confident that you will not be disappointed! In fact, professional racecar drivers like Ron Capps, Travis Pastrana, Denny Hamlin, and Boris Said routinely visit our locations in-between races and during the off-season to experience the thrill of wheel-to-wheel competition themselves! No reservation is required to race at K1 Speed Torrance. If you want to experience indoor go-kart racing, simply meeting the height requirements will suffice. Why wait? Come in today and start racing!
High-Performance Electric Go-Karts
Over the last decade, the sport of electric karting has exploded in the United States. As the company that introduced electric indoor karting to America, we're particularly proud of the evolution we've witnessed. If you've heard of indoor karting but never experienced it yourself, now is the time. At K1 Speed Torrance, the public can experience the thrill of indoor go-kart racing themselves in our high-performance, zero-emission electric go-karts. These European karts are extremely capable machines that will push you back into your seat under acceleration. On the high-grip concrete surface at K1 Speed Torrance, our karts can produce incredible G-forces and the experience of driving them at speed is not unlike that of driving a real formula racecar. The handling, acceleration, and braking are superb and wringing the most out of them is tremendous fun.
To gauge your performance and keep track of your progression in the sport, we provide live telemetry during races so that you can monitor not only your track time, but the times of your competitors as well. Your performance is then measured against the more than 1,000,000 competitors to have raced at K1 Speed so that you can see how your skills stack up against our most accomplished racers. This race performance measurement provides the tools one needs to develop their skills and track their development. Many of our more ardent fans eventually find their way into the seat of a two-stroke shifter kart, stock car, or open-wheel formula car. Almost all of the greats got their start in karting, and you could too.
Our indoor kart track is professionally designed to meet exacting standards, and to provide racers with both a fun and safe environment in which to test their skills and the performance of our karts. All of our indoor kart tracks feature Protex barrier systems to absorb energy in the event of a collision or accident, and our karts feature remote shutoff and remote power modulation should the track conditions require it.
Unlike gas-powered karts, which cannot be shut off remotely in the event of an on-track incident, we can to ensure safety. Our karts also feature seatbelts and roll bars, features absent on many gas-powered karts. We want you to have fun and be safe. Experience the thrill and undeniable fun of indoor go-kart racing today – visit K1 Speed Torrance in West Los Angeles.
K1 Speed's indoor go-kart track in Torrance combines drift style racing with one of our most challenging courses to date. With a great combination of straights, sweepers and hairpin turns it is sure to test you racing ability. Grab your friends and be one of the first to lay down rubber on the new indoor kart racing track in Torrance.
It's like miniature Formula 1 Racing! Great place for adults/children and for hosting parties or work/social gatherings. There's an alcohol bar, for those NOT RACING, arcade games and pool tables available as well. Check out the merchandise, it may make it more fun/competitive to have a tangible item for those in your group/party to compete for, we purchased a 1st PLACE medal and it went to the racer with fastest time. NOW OPEN, mask/social distancing practice required.

Fernando R.
04:27 19 Apr 21
Very exciting place. Had A Wonderful time Celebrating my great-nephews birthday

Hard to get a time slot to race...But sooo fun!

First timer it was chill only beer though also hard with glasses so bring old pairAlso come earlier so you won't be a all day thing unless you have partyYes it is openBathroom are clean

Prices are high oh, but the children love it an adult. No food only drinks.

Denisha Tillman C.
00:57 04 Apr 21
K1speed is one of the funnest places I have ever been! Their karts are fast and the employees are top notch! I could go to k1speed every day if I could!

Impromptu trip for the kids birthday, got a few laps in....staff was helpful And the kid had fun

Albert Jones I.
02:09 27 Mar 21
Love this place. The staff is friendly, first time experience and it was awesome.. Really fun for the kids as longest they are 48" inches tall they can ride.

(Translated by Google) Battle with friends in a reliefA wonderful crown with a comma difference of seconds, but 😂(Original)憂さ晴らしで 仲間とバトル見事栄冠に コンマ何秒の差  だけど😂

Great experience!!So much fun.When to friends meeting and we didn't expect it to be that good.Thank you guys!

Nice place, classy people, in general. Large venue although it could still get packed at times, and could get quite noisy depending on where you're seated.

I had a couple hours to spare before my SFO flight (ok ok ok, I made certain my schedule would allow for a drive here before my flight). And, it was WORTH IT!

Torrance Newsletter Sign Up
Be the first to know about special events and promotions.