Corporate Events
Birthday Parties
Arrive & Drive

Fun for the
Whole Family!

BOOK NOW
WE MAKE IT EASY TO PLAN
YOUR PARTY AND CELEBRATE
WITH FRIENDS!
Birthday Fun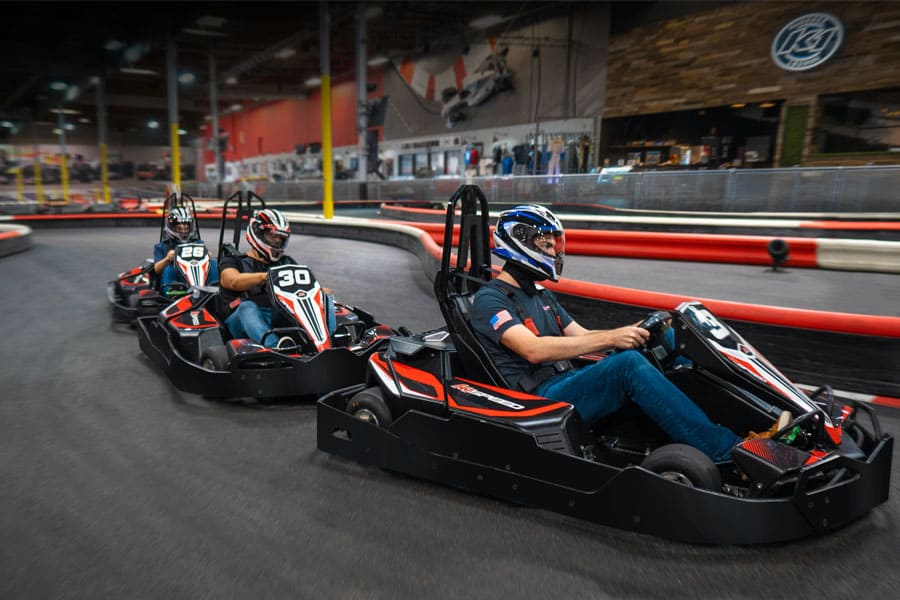 Corporate Events
Birthday Parties
Arrive & Drive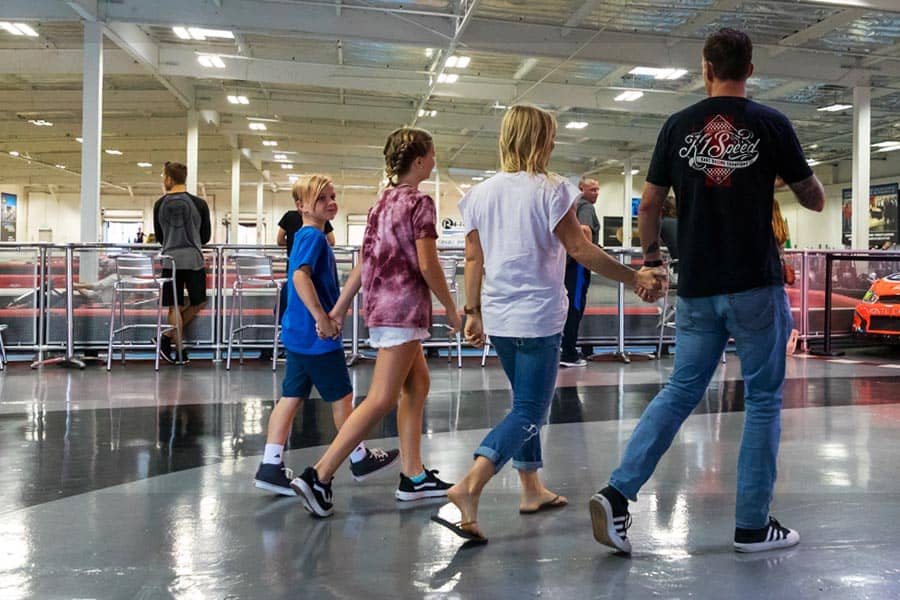 Fun for the
Whole Family!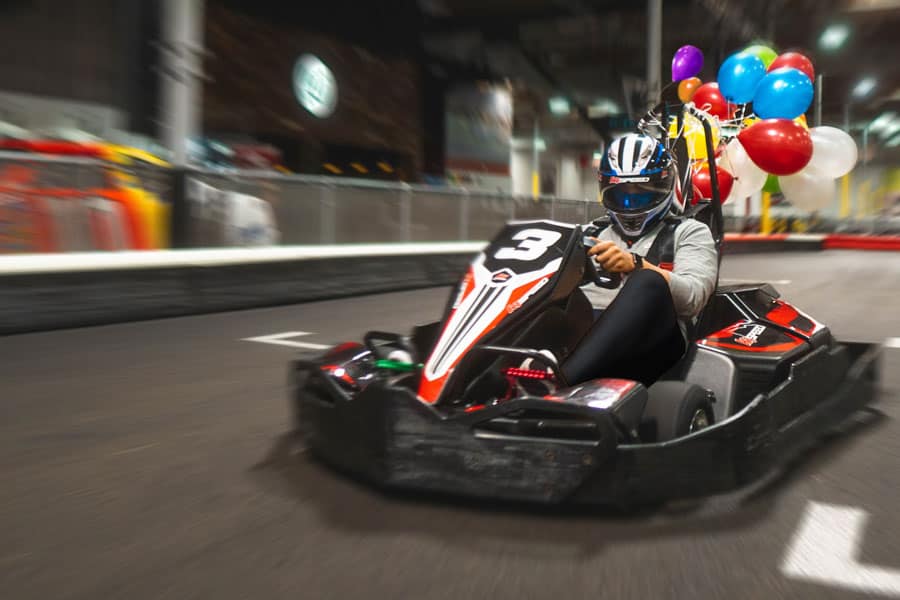 BOOK NOW
WE MAKE IT EASY
TO PLAN YOUR PARTY
AND CELEBRATE
WITH FRIENDS!
Birthday Fun

NOW ACCEPTING PRIVATE GROUP RESERVATIONS
Indoor Go Kart Racing Torrance, California
Wheel to Wheel Racing in West Los Angeles
Racing enthusiasts in West Los Angeles can satisfy their adrenaline needs with indoor go-kart racing at K1 Speed Torrance! Our karting location is conveniently located for residents of Long Beach, San Pedro, Gardena, Redondo Beach, and all West Los Angeles. If you want to compete head-to-head with friends or family, we invite you to come into K1 Speed Torrance and put your skills to the test. We are dedicated to providing our guests with an authentic racing experience, and we are confident that you will not be disappointed! In fact, professional racecar drivers like Ron Capps, Travis Pastrana, Denny Hamlin, and Boris Said routinely visit our locations in-between races and during the off-season to experience the thrill of wheel-to-wheel competition themselves! No reservation is required to race at K1 Speed Torrance. If you want to experience indoor go-kart racing, simply meeting the height requirements will suffice. Why wait? Come in today and start racing!
High-Performance Electric Go-Karts
Over the last decade, the sport of electric karting has exploded in the United States. As the company that introduced electric indoor karting to America, we're particularly proud of the evolution we've witnessed. If you've heard of indoor karting but never experienced it yourself, now is the time. At K1 Speed Torrance, the public can experience the thrill of indoor go-kart racing themselves in our high-performance, zero-emission electric go-karts. These European karts are extremely capable machines that will push you back into your seat under acceleration. On the high-grip concrete surface at K1 Speed Torrance, our karts can produce incredible G-forces and the experience of driving them at speed is not unlike that of driving a real formula racecar. The handling, acceleration, and braking are superb and wringing the most out of them is tremendous fun.
To gauge your performance and keep track of your progression in the sport, we provide live telemetry during races so that you can monitor not only your track time, but the times of your competitors as well. Your performance is then measured against the more than 1,000,000 competitors to have raced at K1 Speed so that you can see how your skills stack up against our most accomplished racers. This race performance measurement provides the tools one needs to develop their skills and track their development. Many of our more ardent fans eventually find their way into the seat of a two-stroke shifter kart, stock car, or open-wheel formula car. Almost all of the greats got their start in karting, and you could too.
Our indoor kart track is professionally designed to meet exacting standards, and to provide racers with both a fun and safe environment in which to test their skills and the performance of our karts. All of our indoor kart tracks feature Protex barrier systems to absorb energy in the event of a collision or accident, and our karts feature remote shutoff and remote power modulation should the track conditions require it.
Unlike gas-powered karts, which cannot be shut off remotely in the event of an on-track incident, we can to ensure safety. Our karts also feature seatbelts and roll bars, features absent on many gas-powered karts. We want you to have fun and be safe. Experience the thrill and undeniable fun of indoor go-kart racing today – visit K1 Speed Torrance in West Los Angeles.
K1 Speed's indoor go-kart track in Torrance combines drift style racing with one of our most challenging courses to date. With a great combination of straights, sweepers and hairpin turns it is sure to test you racing ability. Grab your friends and be one of the first to lay down rubber on the new indoor kart racing track in Torrance.
The Best Event Venue in South OC
K1 Speed Torrance is the best event venue in South LA County (Torrance, Gardena, South Bay)! No matter the reason, we can put on an event or party that your guests will never forget. These include, but are not limited to:
hella fun only thing if your out of shape like me you are going to be sore lol

Everyone was so attentive, friendly, and extremely knowledgeable! First time at this location and definitely will return!

First time at K1 and we had a great experience!

We had a great experience and time. The personal were helpful and attentive, so I am looking forward to re-visiting

Great fun. Good experience. Loved that we had a private room to use after we raced. The lighting is the private room could have been more inviting if it wasn't so bright that surgery could be performed buy we still had a fun event.

Fun AF!!! Great atmosphere, koo games, not to pricy.

Excellent time and amazing staff. Was not embarrassed to ask my dumb racing technique questions. They provided great support and insight. Looking forward to the next so I could take revenge on my speedy nephew.

everyone was friendly helpful

john "earlj" E.
17:12 04 Aug 22
Very efficient and fun. Just wish it was cooler!

Always a great time. I don't like their new check in procedure, but everything else is good.


Nice place to have some fun

Fernando M.
21:53 30 Jul 22
Torrance Newsletter Sign Up
Be the first to know about special events and promotions.