Corporate Events
Birthday Parties
Arrive & Drive

Fun for the
Whole Family!

BOOK NOW
WE MAKE IT EASY TO PLAN
YOUR PARTY AND CELEBRATE
WITH FRIENDS!
Birthday Fun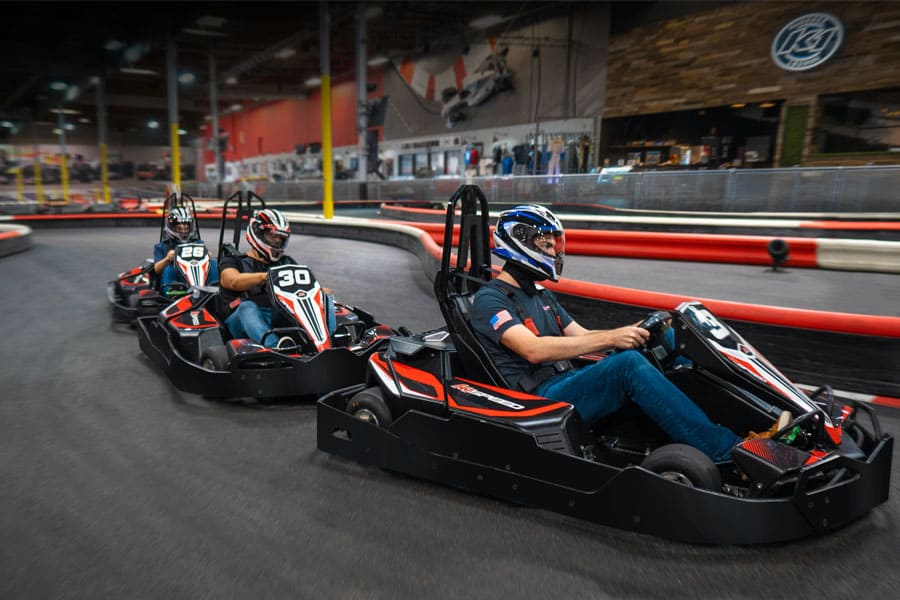 Corporate Events
Birthday Parties
Arrive & Drive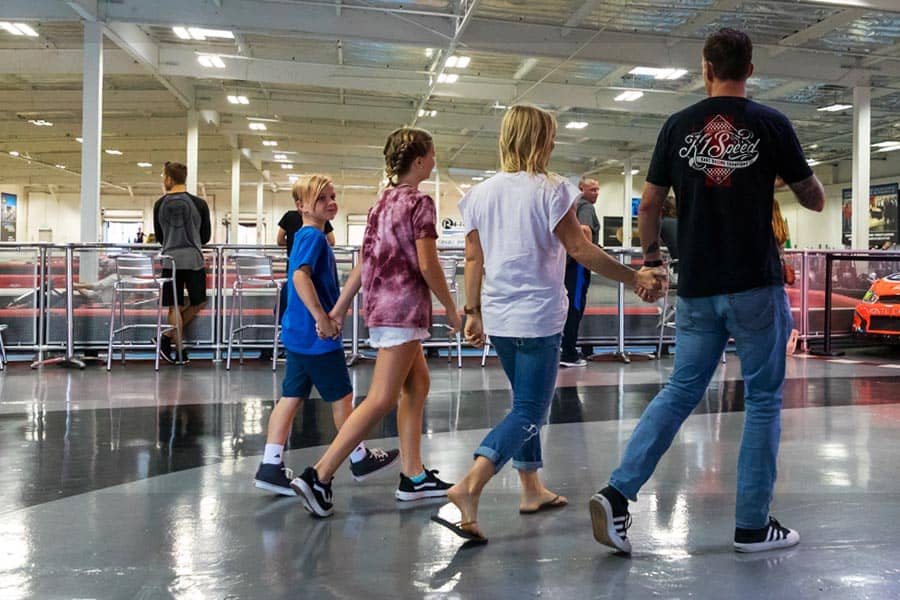 Fun for the
Whole Family!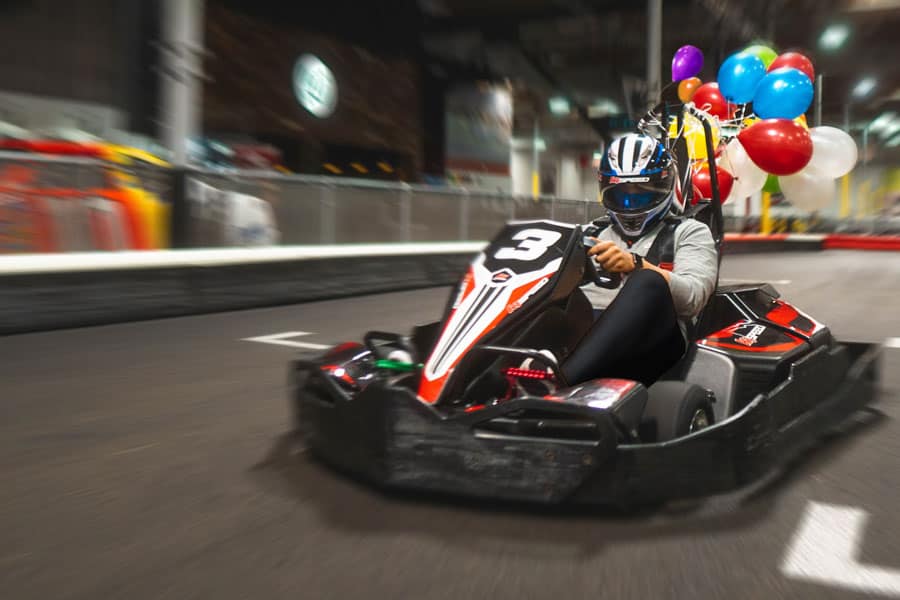 BOOK NOW
WE MAKE IT EASY
TO PLAN YOUR PARTY
AND CELEBRATE
WITH FRIENDS!
Birthday Fun

NOW ACCEPTING PRIVATE GROUP RESERVATIONS
  Adult and Junior electric karts
  Nightclub-style lighting
  2 Meeting rooms with A/V connections
Indoor Go Kart Racing Burbank
If you live in the greater Los Angeles metropolitan area, you have not one K1 Speed location to choose from but several! In addition to our Torrance and Ontario locations, we now have an indoor go-kart racing location in Burbank to meet your needs. Our K1 Speed Los Angeles locations are world-class entertainment venues that are designed to keep you entertained and engaged, whether you're on or off the track. If you want to experience indoor karting yourself, are interested in hosting a fun and memorable party for a friend or loved one, or would like to plan a unique corporate function, we can help.
Indoor Go Kart Racing – The K1 Speed Difference
So what makes K1 Speed unique? Well, where do we start?! First off, every one of our locations, located throughout the United States from Southern California to Southern Florida, is entirely self-contained. Our indoor go-kart racing locations, including our Burbank location just north of Los Angeles, allow individuals to race every day of the year, regardless of weather. Rain, snow, sleet, or blistering heat, driving enthusiasts can come to K1 Speed, escape the weather, and start racing!
The other difference that sets K1 Speed apart from the competition, and the feature that we have grown and built our reputation on, is our use of 100-percent, all-electric karts. Forget about the lawn mower-powered go-karts of your youth. Our European-style electric karts are high-performance machines, producing tremendous torque and horsepower from advanced electric motors. These zero-emission karts outperform their gas-powered counterparts while being better for the environment, quieter, and arguably, easier to drive. With our karts, you don't have to worry about stalling the engine or dropping out of the power band in a tight corner – our electric motors produce maximum torque at all speeds! Race wheel-to-wheel at speeds approaching 45 mph on an indoor track!
Special Events and Corporate Packages
We offer far more than just our Arrive and Drive racing package. Regardless of your needs, we have them met. We have a number of packages to choose from, including:
If you are interested in planning a party at our indoor go-kart racing location in Burbank, we can help. We offer catering options, private room rentals, and custom race packages. Schedule an event today – you won't regret it!
A good reminder that I'll never be a Formula 1 driver but I can still beat these little kids and feel like Sebastian Vettel on the podium.

The staff had great energy, I missed 1st place by .055 or so! So fun. Thanks.

K1 WAS AN AWESOME EXPERIENCE!! My lil 6 yr old LOVES IT. You can host a party with all the activities including cart racing and the beautiful, professional, always in her super-heroine stance (Lara Croft) JOSIE and the crew are top notch ready to assist at your beckon call. Fun for the kids, teens and adults.

Nice time for people who loves speed. However there is too hot inside in summer time.No AC, just some fans inside.

Super nice staff and were great to my fiancé's son for his birthday.

makes sense but i don't like that parties get priority over fewer arrive and drive customersaside from that it's great

K1 offered a first rate racing experience. While the pricing may be a deterrent at first, the quality of the go carts quickly makes you forget about what you spent. The cars are all electric which allows for more torque/acceleration coming out of the corners.A neat feature is the ability for the staff is to control or limit the speed of all the cars in the event of a spin out or cars getting tangled. Over all a safe and exciting experience.Covid related: the staff had a good system of segregating used helmets and actively sanitized them with a spray and allowed them to dry out before putting them back for reuse. The go carts touch surfaces were all wiped down with sanitizer and disposable towels.The food and drinks were standard offerings and over priced... No surprise.

First off this place is amazing. I've been to several K1 speed locations across SoCal and this is my favorite. The staff is super friendly and they try to get you into as many races as possible. It does get packed from time to time but if you are 1-2 people you shouldn't have a problem getting a few races in. I always make sure to call ahead to see what the wait time is. One thing I really like about this location is if you ask the staff for advice on how to shave some time off they will give you pointers and some tips.

We all had a blast (adult, 14 yr old boy, 10 yr old boy and 9 yr old girl). My biggest complaint is that we kept getting placed at the end of the car line up at the beginning of each race. It wasn't until several people left from a group that we finally got moved up to front cars on our third race. I think you need to work on your algorithm that places where drivers go. Maybe based on time from last race, or truly randomize it. It clearly was not random. Because before the 3 race my oldest son and I were in the same starting position two times in a row.

So fun, took my kids above and beyond fun!!The crew was awesome

gregory M.
07:43 12 Aug 21
It was super cool! The design and layout is perfect. My 8 year old son rode for the 1st time and he's obsessed! Definitely coming back here again & again & again, I'm sure 🙂

Nice / Organized / Clean place..Took my 9 year old Son..💘 Loved it.

Burbank Newsletter Sign Up
Be the first to know about special events and promotions.