Corporate Events
Birthday Parties
Arrive & Drive

Fun for the
Whole Family!

BOOK NOW
WE MAKE IT EASY TO PLAN
YOUR PARTY AND CELEBRATE
WITH FRIENDS!
Birthday Fun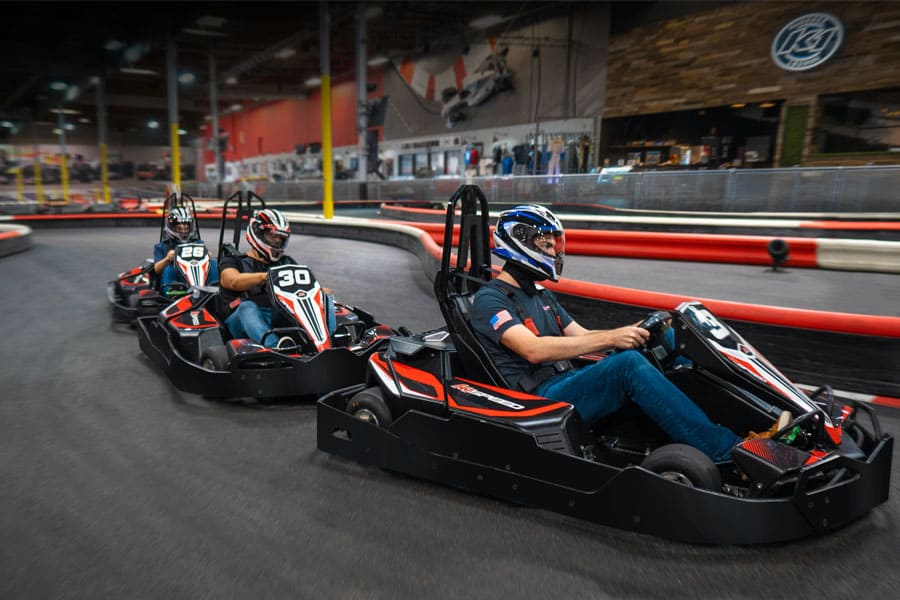 Corporate Events
Birthday Parties
Arrive & Drive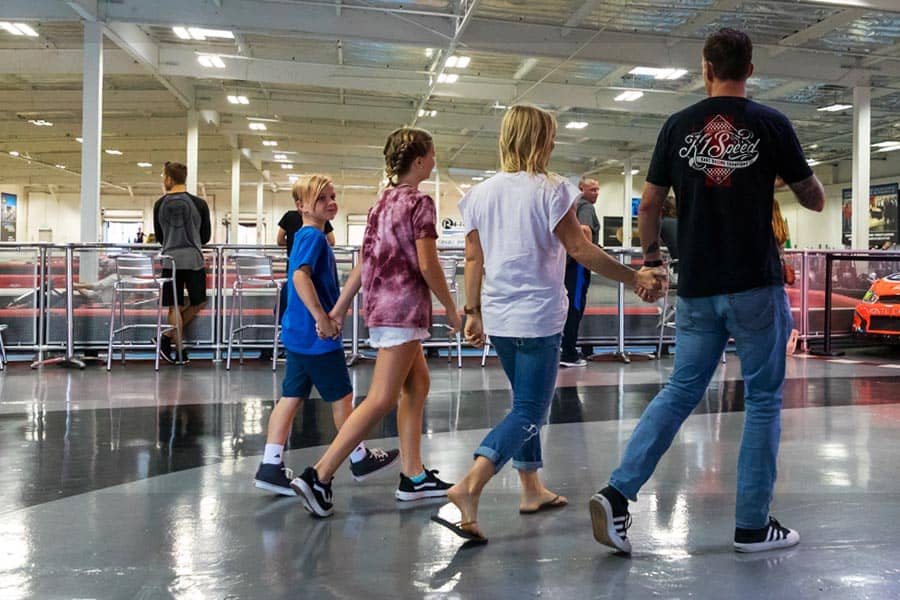 Fun for the
Whole Family!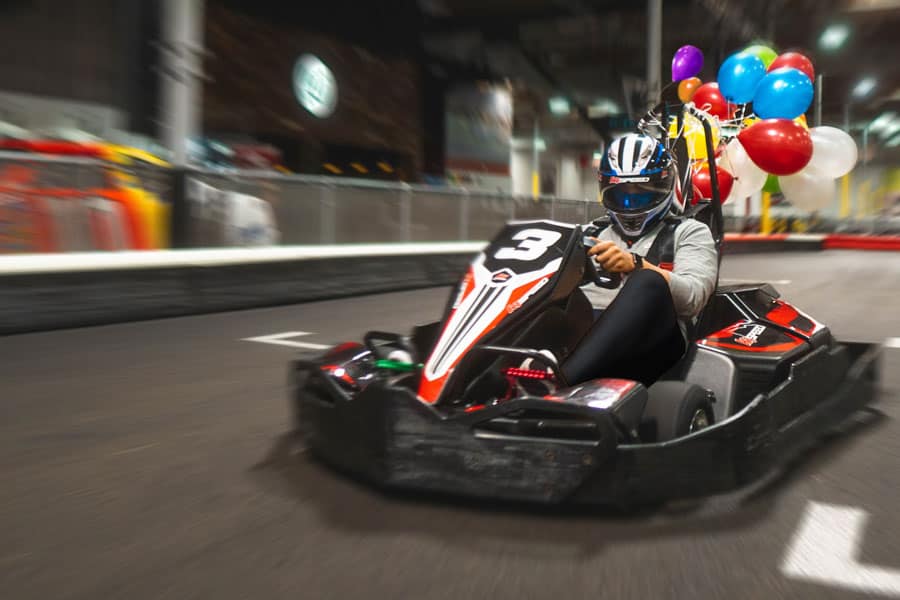 BOOK NOW
WE MAKE IT EASY
TO PLAN YOUR PARTY
AND CELEBRATE
WITH FRIENDS!
Birthday Fun

NOW ACCEPTING PRIVATE GROUP RESERVATIONS
K1 Speed Anaheim – Arrive & Drive
Have you and your friends been thinking about things to do tonight? At K1 Speed Anaheim in Orange County, we can provide you with an unforgettable, adrenaline-pumping experience. Our indoor karting center is unlike any other go-kart track you've been to before. Unlike the go-kart track at your local miniature golf course, our tracks are professionally designed, fully enclosed for racing in rain or shine, and well maintained. We don't differentiate ourselves from the competition simply through our centers though. Our high-performance electric karts are in a different league altogether from the anemic, lawn mower-powered karts you're accustomed to. Capable of speeds approaching 45mph, our electric karts have maximum torque available from 0 rpm and accelerate to their top speed almost instantly. If you're used to the putt-putt-putt of a gas-powered kart as it slowly accelerates to speed, we can assure you that our karts will permanently change your expectations – they provide genuine thrills, whether you're a novice or a seasoned enthusiast.
Once people sample experience the performance of our karts and see our indoor tracks in person, they never go back. If you live in Orange County – including Fullerton, Orange, Cypress, Buena Park, Stanton, Placentia, Yorba Linda – Or just visiting Downtown Disney, Angels stadium, Honda Stadium, The Block Mall, and want to try go-kart racing, give K1 Speed Anaheim a try. You won't be disappointed!
Arrive & Drive Racing – Race our Karts, Anytime
Though we offer a wide range of race packages for parties of 8 or more, our most popular attraction is our Arrive & Drive race option. In an Arrive & Drive race, up to 12 racers at a time take to the track to race against the clock. Rather than race for position, which can reward pure luck or simply good blocking skills which we highly discourage, our Arrive & Drive races reward consistency, skill, and strategy. Setting a good lap time often involves navigating slower traffic or creating a hole so that you have a free and open track ahead of you. Just like qualifying in Formula One, one wrong move can ruin your lap time and prevent you from taking home the victory. We offer live telemetry so that you can monitor your on-track performance in real time and make necessary adjustments. After the race, you can compare your overall performance to every participant who has ever attended a K1 Speed indoor karting center.
Experience the Thrills Today
If you're interested in go-kart racing, the Arrive & Drive option at K1 Speed Anaheim in Orange County is for you. As any number of professional racecar drivers can attest to, including Travis Pastrana, Boris Said and Denny Hamlin of NASCAR, Juan Pablo Montoya, and Ron Capps, go-kart racing at K1 Speed is a genuine thrill! In fact, don't be surprised if the adrenaline and sweat are pumping when you get off of the track. We must warn you that speed is addictive though! Many first-time racers buy one race to begin with, but you'll find that many of our regular competitors opt for the combo pack of 3 races!
The Best Event Venue in Orange County
K1 Speed Anaheim is the best event venue in Orange County! No matter the reason, we can put on an event or party that your guests will never forget. These include, but are not limited to:
It was really nice and brain testing at times! The wait in the beginning was long but understood.

GrimmReaper6662
00:49 24 Jan 22
I went to the Anaheim facility on Tuesday the 11th and had a great time! Two awesome carts for both of my races, and the staff was right on top of everything! Kudos......to a job well done! I also went on Tuesday the 18th and had another great set of races, my thanks to the staff for going above and beyond!

Recently had a bday at this k1 and it was awesome staff was cool but not really the track refs or what evs but there food was amazing had the pizza with perfect amounts of cheese and the pretzel bites they could add more to the plate but it was really good I'm all

Nos divertimos como niños, mi familia y amigos, sin duda un buen lugar para gastar la adrenalina.

Good fun. Nice clean place. Friendly people

Exelente lugar para los niños y adultos para pasar un rato conduciendo los miniautos genia

Expensive, but fun. 2 people-3 races $150. Perfect for a rainy day activity.

Great place to go... it's better if you go on week days cause the lines are way smaller and waiting times are like 10 minutes between races....Prices goes from $25 to $60 dollars per person depending on what you get. You can bring your on motorcycle helmet, unless you want to used theirs.

if you have young adults at home and you don't want them to be bored, this is the best place to visit, highly recommended

This experience was fun!! Didn't have to wait long to ride the karts.

Very memorable experience and very orderly.

This place is fun. For everybody. There's a nice little bar too.

Anaheim Newsletter Sign Up
Be the first to know about special events and promotions.