Corporate Events
Birthday Parties
Arrive & Drive

Fun for the
Whole Family!

BOOK NOW
WE MAKE IT EASY TO PLAN
YOUR PARTY AND CELEBRATE
WITH FRIENDS!
Birthday Fun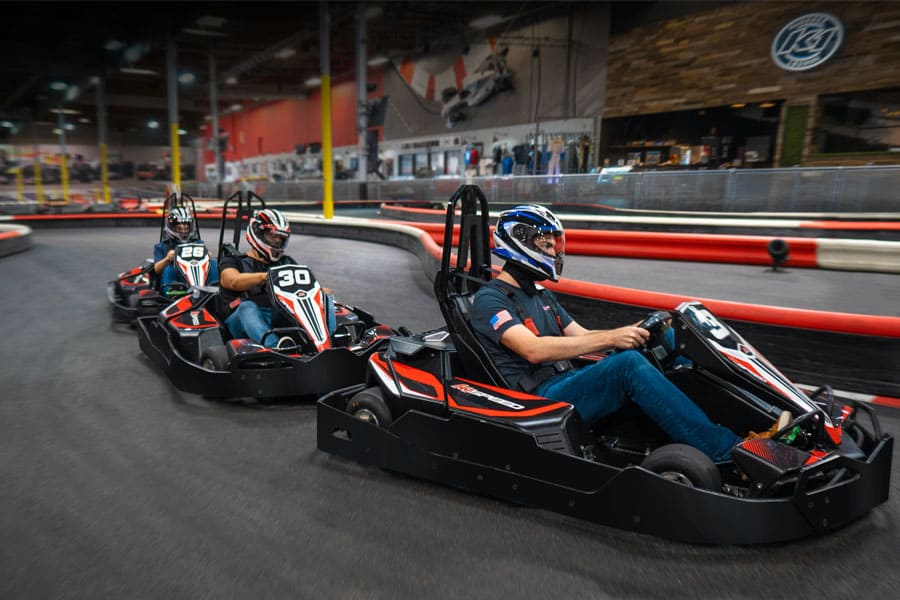 Corporate Events
Birthday Parties
Arrive & Drive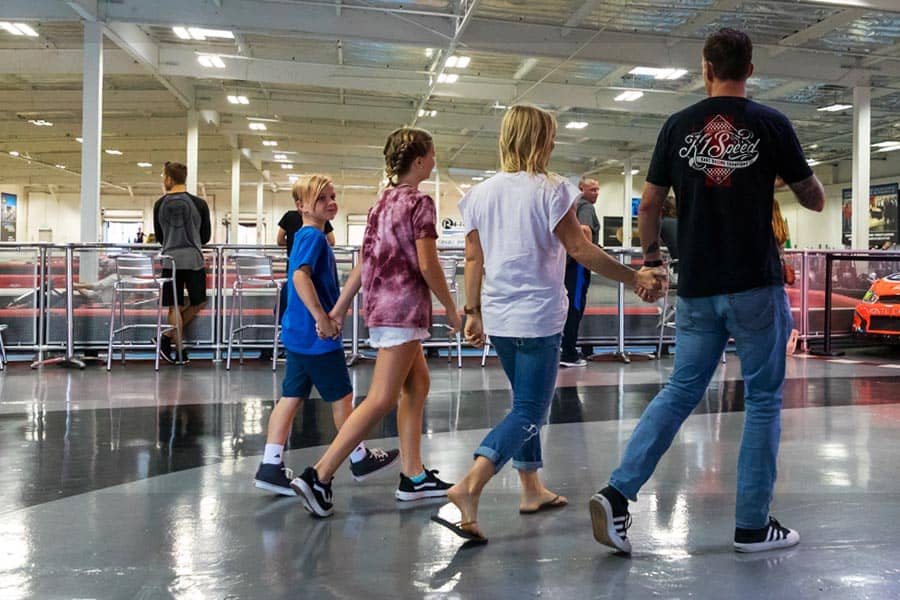 Fun for the
Whole Family!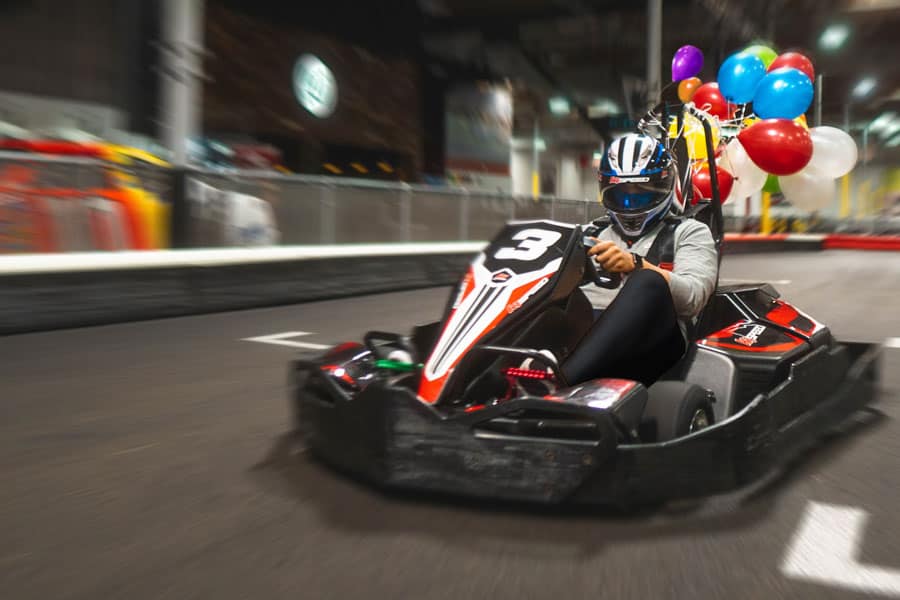 BOOK NOW
WE MAKE IT EASY
TO PLAN YOUR PARTY
AND CELEBRATE
WITH FRIENDS!
Birthday Fun

NOW ACCEPTING PRIVATE GROUP RESERVATIONS
K1 Speed Anaheim – Arrive & Drive
Have you and your friends been thinking about things to do tonight? At K1 Speed Anaheim in Orange County, we can provide you with an unforgettable, adrenaline-pumping experience. Our indoor karting center is unlike any other go-kart track you've been to before. Unlike the go-kart track at your local miniature golf course, our tracks are professionally designed, fully enclosed for racing in rain or shine, and well maintained. We don't differentiate ourselves from the competition simply through our centers though. Our high-performance electric karts are in a different league altogether from the anemic, lawn mower-powered karts you're accustomed to. Capable of speeds approaching 45mph, our electric karts have maximum torque available from 0 rpm and accelerate to their top speed almost instantly. If you're used to the putt-putt-putt of a gas-powered kart as it slowly accelerates to speed, we can assure you that our karts will permanently change your expectations – they provide genuine thrills, whether you're a novice or a seasoned enthusiast.
Once people sample experience the performance of our karts and see our indoor tracks in person, they never go back. If you live in Orange County – including Fullerton, Orange, Cypress, Buena Park, Stanton, Placentia, Yorba Linda – Or just visiting Downtown Disney, Angels stadium, Honda Stadium, The Block Mall, and want to try go-kart racing, give K1 Speed Anaheim a try. You won't be disappointed!
Arrive & Drive Racing – Race our Karts, Anytime
Though we offer a wide range of race packages for parties of 8 or more, our most popular attraction is our Arrive & Drive race option. In an Arrive & Drive race, up to 12 racers at a time take to the track to race against the clock. Rather than race for position, which can reward pure luck or simply good blocking skills which we highly discourage, our Arrive & Drive races reward consistency, skill, and strategy. Setting a good lap time often involves navigating slower traffic or creating a hole so that you have a free and open track ahead of you. Just like qualifying in Formula One, one wrong move can ruin your lap time and prevent you from taking home the victory. We offer live telemetry so that you can monitor your on-track performance in real time and make necessary adjustments. After the race, you can compare your overall performance to every participant who has ever attended a K1 Speed indoor karting center.
Experience the Thrills Today
If you're interested in go-kart racing, the Arrive & Drive option at K1 Speed Anaheim in Orange County is for you. As any number of professional racecar drivers can attest to, including Travis Pastrana, Boris Said and Denny Hamlin of NASCAR, Juan Pablo Montoya, and Ron Capps, go-kart racing at K1 Speed is a genuine thrill! In fact, don't be surprised if the adrenaline and sweat are pumping when you get off of the track. We must warn you that speed is addictive though! Many first-time racers buy one race to begin with, but you'll find that many of our regular competitors opt for the combo pack of 3 races!
The Best Event Venue in Orange County
K1 Speed Anaheim is the best event venue in Orange County! No matter the reason, we can put on an event or party that your guests will never forget. These include, but are not limited to:

Great track and good staff


Hailey had a blast took her for b-day 2 day

hailey's W.
02:41 28 Jul 21
We had a lot of fun racing! My only complaint is that they don't give you any guidance and just expect you to know the rules and how to drive the cars.

Came in on Friday lunch and certainly more packed than other weekday lunch times! Got my race for 1pm and it was not the best. One of the racer's kart had power cut out and changed twice and interrupted our race completely. I know they have a tight time schedule so we finished without any additional laps. Aliah? The front cashier asked how my race was when she handed out the paper and I told her about the situation and how it was shown in everyone's race charts. Without hesitation, she said that's not right and credit us all another race. Thanks for being so attentive and caring of our experience at the track!

Tsung Hung S.
01:06 26 Jul 21
This was my first time. It was fantastic!

Phreaker S.
20:27 24 Jul 21
My son had the best time. Thank you for making his day extra special.

Cristina G.
16:40 21 Jul 21
Had a great time, it was my buddies birthday and we had so much fun celebrating it at K1.

Go karts were fun but honestly the track was a little too small to handle the go karts. Maneuvering around others was difficult, but i had a great time! They also have a lounge/bar and a small arcade.

Está muy bonito y divertido

Francisco M.
03:22 08 Jul 21
I rate it…8 bruises out of 10 concussions(Here's a tip- don't be a moron and you'll be fine😄)I went only once, but it was pretty fun. I was doing good for the first few laps but I didn't have my foot on the brake and crashed into a wall head on and got the wind knocked out of me.

Freakoutboy
03:32 07 Jul 21
Anaheim Newsletter Sign Up
Be the first to know about special events and promotions.