Corporate Events
Birthday Parties
Arrive & Drive

Fun for the
Whole Family!

BOOK NOW
WE MAKE IT EASY TO PLAN
YOUR PARTY AND CELEBRATE
WITH FRIENDS!
Birthday Fun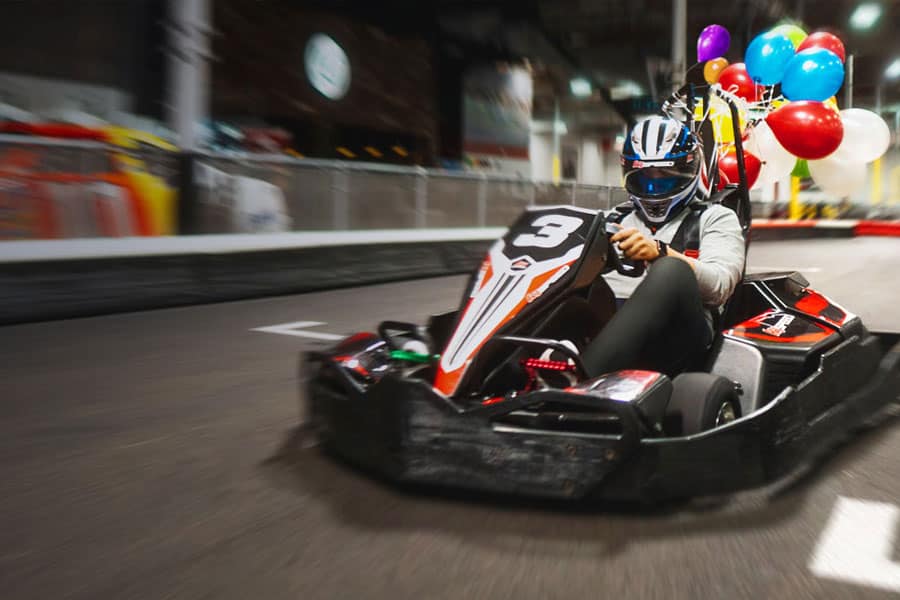 BOOK NOW
WE MAKE IT EASY TO PLAN
YOUR PARTY AND CELEBRATE
WITH FRIENDS!
Birthday
Fun!

NOW ACCEPTING PRIVATE GROUP RESERVATIONS
Indoor Karting Salt Lake City
Indoor Karting Salt Lake City
Looking for a fun thing to do in Sandy, West Valley City, West Jordan, South Jordan, Draper, Murray, or Cottonwood Heights? Or maybe you're just visiting landmarks like The Shops at South Town, and looking for fun and excitement. Well, you can't go wrong at K1 Speed! Our Salt Lake City indoor karting facility, is much more than a simple go-kart track. In addition to racing, our location also has private meeting rooms, a spacious lounge with video games and leather couches, a fully stocked snack bar, and a large collection of racing memorabilia. Our aim at K1 Speed is for guests to have as much fun off of the track as on!
If you are looking for things to do tonight or this weekend with friends, or would like to spend an unforgettable afternoon with your kids, we assure you that we have you covered! Come in and enjoy all that K1 Speed Salt Lake City has to offer – no reservations are required!
The K1 Speed Difference – Redefining What It Means to be a Go-Kart Track
The odds are good that our Salt Lake City indoor karting location is unlike any kart track you've been to. In fact, as soon as you walk through our front doors, the differences will be immediately apparent. K1 Speed makes a point of redefining our customers' expectations – you will experience:
All-Electric Karts
Unlike our competitors that still rely on antiquated, gas-powered go-karts, we field a fleet of high-performance electric karts. The benefits that our karts provide over traditional alternatives are many: superior performance, zero emissions, smooth operation, ample torque, and built-in and remotely operated safety measures. Once you experience what it's like to race wheel-to-wheel with other competitors at speeds approaching 45mph, you'll be converted – we promise!
Indoor Tracks
Our go-kart track in Salt Lake City, like its nearly two dozen siblings located nationwide, is housed entirely indoors. What this means for you is year-round racing. Sandy, Utah in the dead of winter time may not seem to be the most hospitable place for go-kart racing, but our indoor karting location makes this far-fetched idea a reality! Rain or shine, hot or cold, you can satiate your need for speed in a safe, controlled, and comfortable environment.
Arrive & Drive Racing
Competing at K1 Speed is as easy as walking through the door – and that is because you don't need a reservation to race our high-performance karts! Our Arrive & Drive race package allows you to come in any time of day and take part in a heat with up to a dozen other drivers. Once on the track, you and your rival racers – friends, family, and strangers alike – will set out to see who can set the fastest lap time in the time allotted. Best of all, we provide instruction, safety equipment, and identical karts to all of our competitors.
Special Events and Corporate Packages
At K1 Speed, we are committed to providing a genuine and authentic racing experience; one that will please the most discerning of enthusiasts, but is accessible for the most casual of fans. To make this experience as accessible as possible, we offer a wide range of packages in addition to our Arrive & Drive races. If your party has 9 or more people, you may enjoy one of the following:
To learn more about any of these packages, you are encouraged to call our location. Of course, you can also book your reservation today.
Enjoy All That K1 Speed Salt Lake City Has to Offer!
Our indoor karting facility in Sandy, Utah is a world-class entertainment venue that is open to people of all ages.* If you have yet to experience what it's like to race at speeds approaching 45mph, well, our location is the perfect place to do so! Come in to K1 Speed Salt Lake City today and see for yourself what all of the hype is about!
*Certain height restrictions apply. Please call for more information.
Tons of fun! I thought children and adults were supposed to be separate so it made it a little worrisome with a child on the track. Other than that, it was great!

Omg after long electric Go kart races awesome experience !! This place is very cool 😎 hangout with your friend and family for sure …. I try my best to make good record but this is first time visit but anyway next time for sure. 🏎️🏎️🏎️🏎️🏎️🏎️🏎️🏎️🏎️

Adventure T.
22:08 09 Mar 23
Friendly staff, they explained the rules well and the track was a lot of fun to drive. We went for a work team activity and would recommend for any large groups!

Anushka J.
13:47 01 Mar 23
More of these are on my list of places to go.......so much fun!

I visited this location from Ohio last month and we had an amazing experience. The track was extremely engaging and technical. The exterior could use a facelift, but the entire staff was very friendly and we felt right at home as soon as we entered.

So much fun!!! Had a blast!!!!

the Karting was fun but the wait time was long. at least for me and my friends

Great staff. Been coming here a lot over the years.One time that I went (the most recent visit) It was the day following " drift night " which meant the track was slick. Trying to race with the track like that was a bit of a waste of time. Next time I go I'll definitely make sure it's not after drift night!

The place is awesome always have a good experience whenever I walk in and race other people. And the workers are just awesome at thier job!!!

Esteban A.
23:26 22 Jan 23
So much fun under one roof! Love this place

Laurenn S.
23:13 01 Jan 23
Went here about a week ago and it was one of the funnest things I have done but just watch out for people who don't know what there doing I almost ran in so many people because they just slowed down way to much or don't know edict or just spun out just be weary of that but overall great place

Great fun, carts are really fast, great track

Salt Lake City Newsletter Sign Up
Be the first to know about special events and promotions.