Corporate Events
Birthday Parties
Arrive & Drive

Fun for the
Whole Family!

BOOK NOW
WE MAKE IT EASY TO PLAN
YOUR PARTY AND CELEBRATE
WITH FRIENDS!
Birthday Fun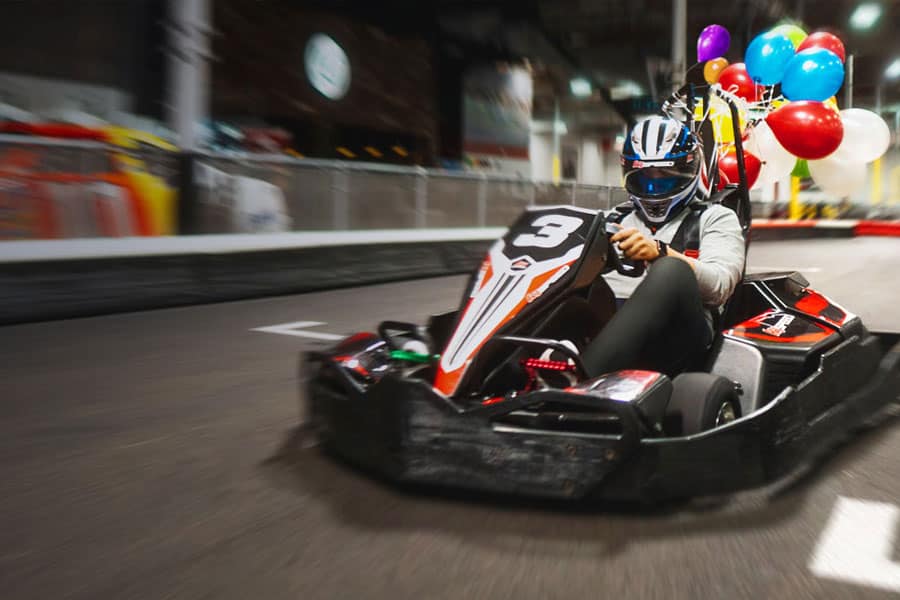 BOOK NOW
WE MAKE IT EASY TO PLAN
YOUR PARTY AND CELEBRATE
WITH FRIENDS!
Birthday
Fun!

NOW ACCEPTING PRIVATE GROUP RESERVATIONS
Indoor Go Kart Racing Atlanta
If you're looking for a thrill, you've come to the right place! Our Atlanta indoor go-kart racing facility is a world-class entertainment venue that is sure to keep you and your friends grinning from ear to ear for the duration of your visit. And if you don't believe us, join us for a race – once you hit the accelerator pedal, you'll be a believer!
To experience the excitement of indoor go-kart racing, visit K1 Speed Atlanta today. We're certainly a fun thing to do in Duluth, near Norcross, Marietta, Sandy Springs, and Johns Creek, and are open seven days a week, rain or shine. Rest assured, you will not be disappointed! At K1 Speed, we have redefined what a go-karting experience can and should be and our goal is simple: for you, your friends, and your family members to enjoy your time with us. Give us a call or come on down – we're waiting!
Experience the Fastest Indoor Karting in Atlanta
So what separates K1 Speed from the competition? To be honest, the list is almost too long to list. But perhaps the biggest difference between K1 Speed and other karting facilities is our go-karts. Unlike those anemic karts that you might remember from your youth (and which can likely still be found at your local miniature golf course), our karts are fully electric. The benefits of our high-performance European electric karts over traditional karts are many, and include:
Instant torque at any speed – there's no engine bogging ever
Zero emissions for a low environmental impact
Zero noxious fumes, allowing for an odor-free experience
Fully enclosed motor that turns on and off with a switch – there's no pull starter!
Unbeatable performance with speeds of up to 45mph
Once you try our electric karts, you'll never go back to the gas-powered alternatives. How do we know? Well, don't just take our word for it – ask any one of our hundreds of thousands of loyal competitors!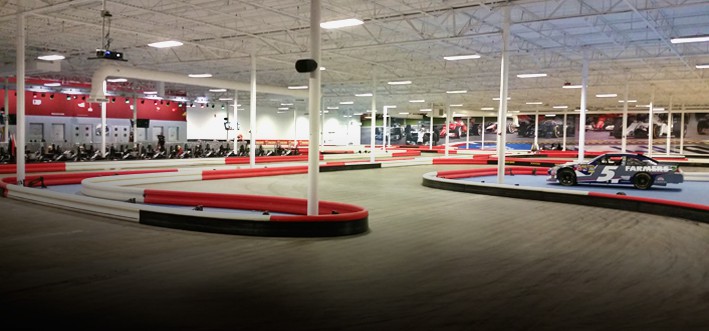 Arrive & Drive Racing, Karting Leagues and More
If you want to experience indoor go-kart racing at our Atlanta facility, you have a number of different options. One of our most popular and accessible options is our Arrive & Drive race package. Just as the name implies, anyone can come in, day or night, without a reservation and compete in a heat for fastest lap with other racers. It really is that easy – all you have to do is meet the height requirements, along with other basic criteria.
For the more hardcore racer, we also host racing leagues. We provide the karts, the helmet and the track. All you have to do is show up! If you'd like to take part in our Challenge GP karting league, we encourage you to get in touch with our staff via phone or email to inquire about eligibility, hot to join, and the race schedule. It's a great way to satisfy your adrenaline needs and is just about the most affordable way possible to compete in a racing league!
Special Events and Corporate Packages
In addition to our racing packages, we also offer a number of options for birthday parties, special events, corporate events and team building exercises at our Atlanta indoor karting center. These packages have been designed with groups of 9 or more persons in mind and are great options for those looking for a bit of excitement! Our packages include:
We can arrange catering options and provide private room rentals should the group require it. Worry not, we have all of your needs covered! If you'd like to schedule a reservation for a group party, or have any questions about our options, please don't hesitate to contact our booking team. They will happily assist you in the process of securing a reservation that works for your schedule.
Awesome staff! I thought my son wanted to be a professional athlete or performer, lm thinking just maybe he's going to become a race car driver!



I took my two grandsons, ages nine and 11. We all had a wonderful time. All of the employees were top notch and friendly. The young lady who registered me was so friendly and nice as were the several young man who helped the kids get into the cars with excellent instructions. A+++

Michael G.
17:18 01 Aug 22
It's always a good time with friendly staff I do wish pricing was a tad bit cheaper or had good membership deals other than that great place and people

Must of been a slow day. Got on the track super fast. But to many noops, couldn't go super fast. All real fun though 😉

Jonathan P.
23:23 30 Jul 22
If I ever ask my son what he wants to do, K1 is at the top of the list! Such a fun time and the people @ the Gwinnett location are always fun to be around.

The race experience was great. The rules for letting others pass wasn't clear. Cost me time in the beginning of the race and later because other's didn't understand the move other rule..

Had so much fun ! Oriyana was very nice and outstanding at helping us sign in and helping us get ready for the race and recommend we upgrade to the three races we really enjoyed it will most definitely be back ! P.s You never know what someone is going through I really appreciate your kindness 🤍

this place waste of money but the speed is like ittt

parisandchimmy
00:54 25 Jul 22
Great time with kids and grandchildren. Great staff!

Overall experience was fairly decent, but driving with a group of kids or very inexperienced drivers can destroy a whole session. In one session, every lap was slowed down due to bad drivers. Made me feel like I wasted a session.

Atlanta Newsletter Sign Up
Be the first to know about special events and promotions.