Corporate Events
Birthday Parties
Arrive & Drive

Fun for the
Whole Family!

BOOK NOW
WE MAKE IT EASY TO PLAN
YOUR PARTY AND CELEBRATE
WITH FRIENDS!
Birthday Fun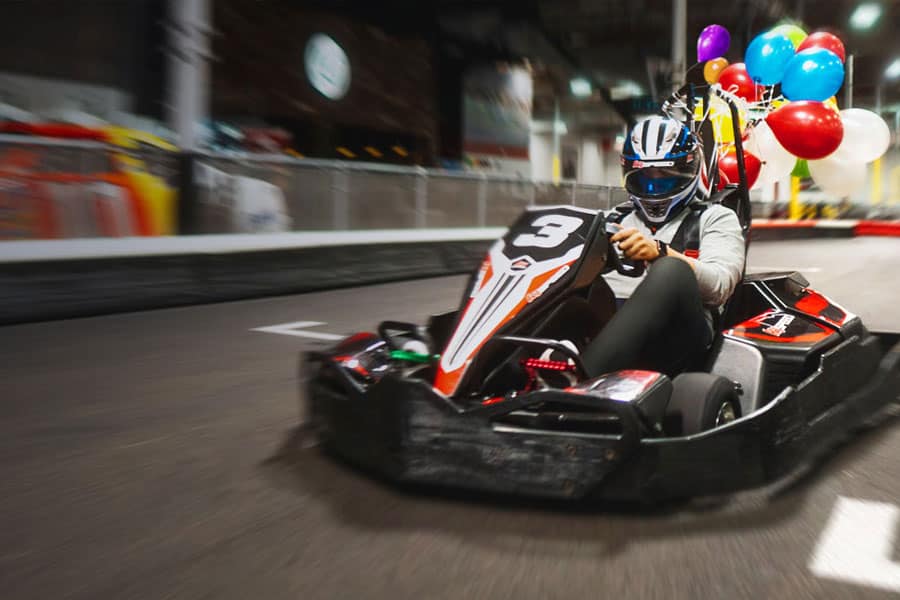 BOOK NOW
WE MAKE IT EASY TO PLAN
YOUR PARTY AND CELEBRATE
WITH FRIENDS!
Birthday
Fun!

NOW ACCEPTING PRIVATE GROUP RESERVATIONS
  Open for Fun Since 2014
  Fully Air-Conditioned Location
  Adult and Junior Electric Karts
  Pit Café Serving Snacks & Drinks
Indoor Go Kart Racing Atlanta
If you're looking for a thrill, you've come to the right place! Our Atlanta indoor go-kart racing facility is a world-class entertainment venue that is sure to keep you and your friends grinning from ear to ear for the duration of your visit. And if you don't believe us, join us for a race – once you hit the accelerator pedal, you'll be a believer!
To experience the excitement of indoor go-kart racing, visit K1 Speed Atlanta today. We're certainly a fun thing to do in Duluth, near Norcross, Marietta, Sandy Springs, and Johns Creek, and are open seven days a week, rain or shine. Rest assured, you will not be disappointed! At K1 Speed, we have redefined what a go-karting experience can and should be and our goal is simple: for you, your friends, and your family members to enjoy your time with us. Give us a call or come on down – we're waiting!
Experience the Fastest Indoor Karting in Atlanta
So what separates K1 Speed from the competition? To be honest, the list is almost too long to list. But perhaps the biggest difference between K1 Speed and other karting facilities is our go-karts. Unlike those anemic karts that you might remember from your youth (and which can likely still be found at your local miniature golf course), our karts are fully electric. The benefits of our high-performance European electric karts over traditional karts are many, and include:
Instant torque at any speed – there's no engine bogging ever
Zero emissions for a low environmental impact
Zero noxious fumes, allowing for an odor-free experience
Fully enclosed motor that turns on and off with a switch – there's no pull starter!
Unbeatable performance with speeds of up to 45mph
Once you try our electric karts, you'll never go back to the gas-powered alternatives. How do we know? Well, don't just take our word for it – ask any one of our hundreds of thousands of loyal competitors!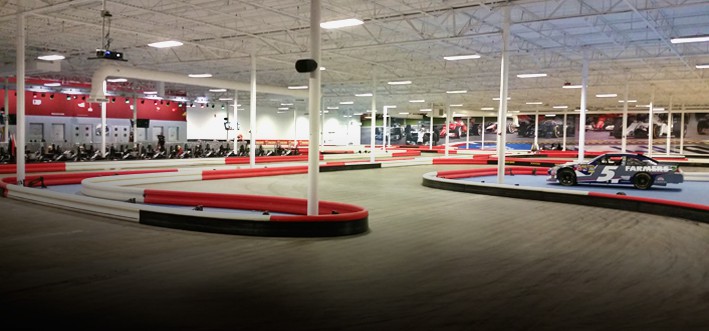 Arrive & Drive Racing, Karting Leagues and More
If you want to experience indoor go-kart racing at our Atlanta facility, you have a number of different options. One of our most popular and accessible options is our Arrive & Drive race package. Just as the name implies, anyone can come in, day or night, without a reservation and compete in a heat for fastest lap with other racers. It really is that easy – all you have to do is meet the height requirements, along with other basic criteria.
For the more hardcore racer, we also host racing leagues. We provide the karts, the helmet and the track. All you have to do is show up! If you'd like to take part in our Challenge GP karting league, we encourage you to get in touch with our staff via phone or email to inquire about eligibility, hot to join, and the race schedule. It's a great way to satisfy your adrenaline needs and is just about the most affordable way possible to compete in a racing league!
Special Events and Corporate Packages
In addition to our racing packages, we also offer a number of options for birthday parties, special events, corporate events and team building exercises at our Atlanta indoor karting center. These packages have been designed with groups of 9 or more persons in mind and are great options for those looking for a bit of excitement! Our packages include:
We can arrange catering options and provide private room rentals should the group require it. Worry not, we have all of your needs covered! If you'd like to schedule a reservation for a group party, or have any questions about our options, please don't hesitate to contact our booking team. They will happily assist you in the process of securing a reservation that works for your schedule.
My Husband and Son love it

Great time. Lil tough to steer but fun non the less.

Staff is awesome. Had a blast. There was a guy sanitizing helmets on the spot. Only bad thing was my sons cart Steered fine right but left only had about half deflection. I'd guess these karts take a beating so that's par for the course.

William B.
18:27 20 Jun 21
My family and I had an absolute great time!! Races were fun yet safely controlled. Staff was courteous and friendly. It's good to see young men and women take pride in their work. Great job K1!!

The staff was very nice, attentive and friendly

It was fun. The cars are far when they let you go all out. The wait was only 20 minutes. You can get about 14 laps in in about 6-7 minutes on track. Staff could use a little energy. Also, the staff could explain the whole process up front. It's a simple set up with a few games and a small kitchen menu. Overall my family and I had a good time. Oh, and they should play music in there, at least during the races. Loud, adrenaline pumping music.

douglas S.
01:20 14 Jun 21
Had a great time at K1 Speed, the go carts are fast and the track is fun. I read other reviews that the staff was not interested in working, but on this day we had no issues like that. Plan to to be there a couple hours and arrive early before it gets busy so you can get rides in without much wait time. One of the highlights of our trip, will return for sure.

Michael J.
17:38 07 Jun 21
Clean, organized, made you feel like you are in a racing school, 14 LAPS.

I love the experience me and my son his first time driving by hisself it was a blast.

Need neck brace for big accidents or whatever may happen other then that it's amazing

Christopher A
00:08 20 May 21
My son really enjoyed himself on his birthday

I love it and my baby enjoyed

Atlanta Newsletter Sign Up
Be the first to know about special events and promotions.