Corporate Events
Birthday Parties
Arrive & Drive

Fun for the
Whole Family!

BOOK NOW
WE MAKE IT EASY TO PLAN
YOUR PARTY AND CELEBRATE
WITH FRIENDS!
Birthday Fun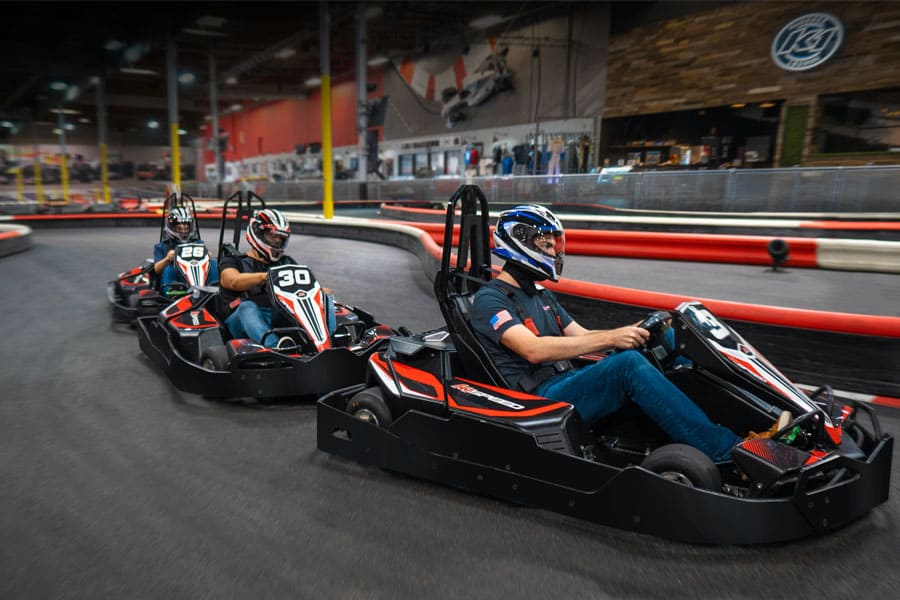 Corporate Events
Birthday Parties
Arrive & Drive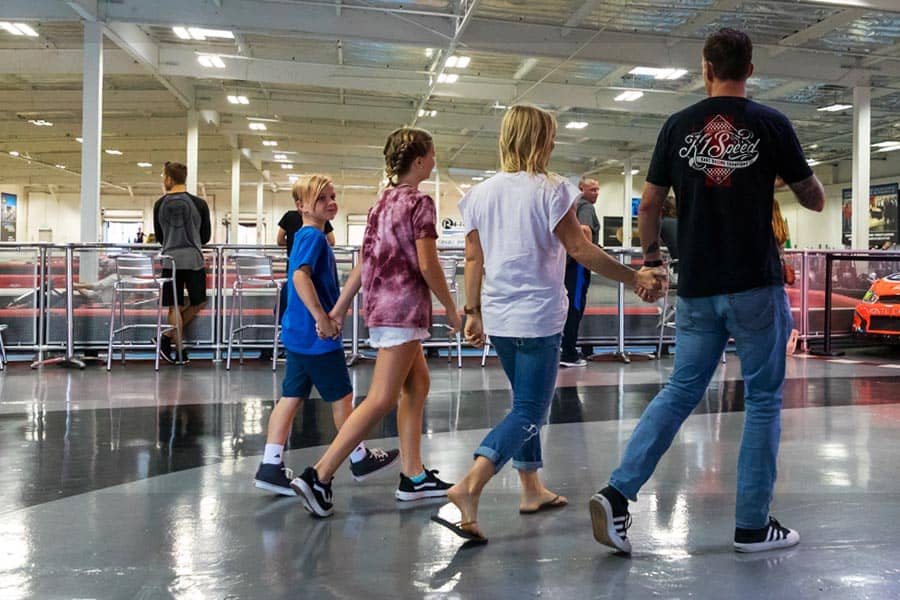 Fun for the
Whole Family!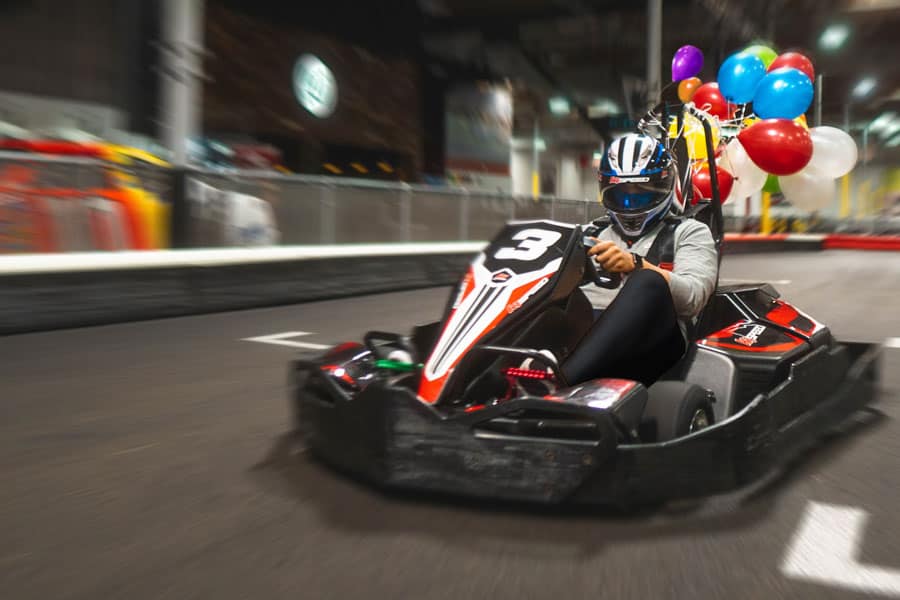 BOOK NOW
WE MAKE IT EASY
TO PLAN YOUR PARTY
AND CELEBRATE
WITH FRIENDS!
Birthday Fun

NOW ACCEPTING PRIVATE GROUP RESERVATIONS
  Open for Fun Since 2011
  Fully Air-Conditioned Location
  Adult and Junior Electric Karts
  Pit Café Serving Snacks & Drinks
Indoor Go Kart Racing Austin
Austin, Texas, the home of Formula One racing in America, is also now home to K1 Speed – America's premier indoor karting experience! If you want a taste of F1 racing for yourself, the first K1 Speed location to call the great state of Texas home – K1 Speed Austin – is for you!  We offer world-class indoor go kart racing to satisfy the adrenaline needs of diehard and casual motor sport fans alike; our European-style 20hp electric karts make racing with friends and family a thrill, and make a visit to K1 Speed an unforgettable experience! Our indoor kart tracks are among the largest in the nation, and provide an experience that is truly unique. We aim not only to provide individuals with authentic, heart-pounding wheel-to-wheel racing, but also strive to offer an atmosphere that is if not as exciting as the on-track racing action, nearly so! Drivers get to experience dizzying G-forces and speeds of nearly 45mph on the track, and when not racing, can browse through our museum-worthy collection of racing memorabilia, including race suits from famous drivers, race cars, autographed paraphernalia, and amazing art work.
K1 Speed Austin is situated close to the Colorado River, and only a 20-minute drive from Circuit of the Americas (COTA), five minutes from The Domain, 15 minutes from downtown Austin, and serves the nearby communities of Round Rock and Georgetown.
Indoor Karting in Austin – The K1 Speed Difference
K1 Speed will redefine your notion of what go kart racing is. To put it simply, these aren't your parents' go karts! In fact, once you try our high-performance, environmentally-friendly electric go karts, you will never be able to "race" the go karts at your local miniature golf course or amusement park again! We take great pride in the superb performance of our karts, and are confident that you will appreciate the difference.
As with every K1 Speed indoor karting location, the track at K1 Speed Austin is professionally designed to ensure our customers' safety, and to provide a challenging, yet fun driving experience. K1 Speed Austin provides a complete indoor go kart racing experience in Central Texas; residents of greater Austin, including Round Rock, can live our their F1 and NASCAR fantasies 365 days a year!
To satisfy the diverse needs of Austin residents, there are a variety of ways to experience indoor go kart racing at K1 Speed. We provide a number of popular race packages and Arrive and Drive racing for individuals wishing to challenge friends, family, or the clock at any time of day (excluding during private closures). Our Arrive and Drive racing option allows both novice and experienced racers to test their skills, and settle a score, anytime! Though you'll be racing wheel-to-wheel against other drivers, winning will require far more than simply holding off the person behind you, as the winner is determined by fastest lap time, adding an additional degree of difficulty and strategy to an already challenging race!
Special Events and Corporate Packages
In addition to Arrive and Drive racing and our Challenge GP race league, we also offer birthday, corporate, and special event packages, including:
We can help schedule an event for you that will be truly special if you are planning an event with a large number of guests, be it for a private function or business event. Our Austin karting location has meeting rooms, Wi-Fi connectivity, projection screens, televisions, and available catering. To learn more about these packages, you are encouraged to call K1 Speed Austin today.
Don't wait! Experience the thrill and excitement of indoor go kart racing for yourself, today. K1 Speed Austin is situated within easy access of city residents, and individuals from surrounding communities, including Round Rock, will find it is more than worth the drive. Please feel free to contact K1 Speed today to schedule a reservation, get directions to our Austin indoor karting location, inquire about private closures, or buy gift cards.
Always a good time. Thanks to all the staff who make it easy and fun to go racing!

charlie A.
03:56 04 May 21
5 stars cause it is super fun, but they do need to figure out a better way to schedule you. wait times are pretty bad

Good place to go to race some go karts.We went on a rainy dead day so the wait really was not bad. Did 2 races back to back. Over all great experience. I had lost my keys here, they had them here and held them for me till I picked them up. Not sure if I would come back, maybe with kids but it was defiantly good to try out once. People at the front counter were friendly. Wish the track was a bit bigger but all in all good experience.

Amazing experience! Payton is the absolute best! She provided us with such a memorable experience. Will definitely be recommending this as a fun activity to all our friends. Would give her 10 stars if I could! She is funny, engaging, informative, knowledgeable, patient and even at closing she was so willing to help us! Great experience! And the races were so fun! Felt long enough but not too long, recommend doing more than one of its your first time. By the second go you'll feel like a pro!

Give this place a try!!! Super friendly alot of fun. Fast go carts and friendly competition for new and seasoned drivers. You dont have to be a pro you just have to love speed!!!

It seems a bit like the employees have friends come over and they are favoritism.......🤔

Freaking Awesome! Karts are faster than expected!

Well kept cars. There is a racing league on sunday afternoons. If you can come during weekdays early after noon you will have the place for yourself.

ricardo K.
17:07 13 Apr 21
Incredibly fun for both adults and kiddos.

Austin Newsletter Sign Up
Be the first to know about special events and promotions.