Corporate Events
Birthday Parties
Arrive & Drive

Fun for the
Whole Family!

BOOK NOW
WE MAKE IT EASY TO PLAN
YOUR PARTY AND CELEBRATE
WITH FRIENDS!
Birthday Fun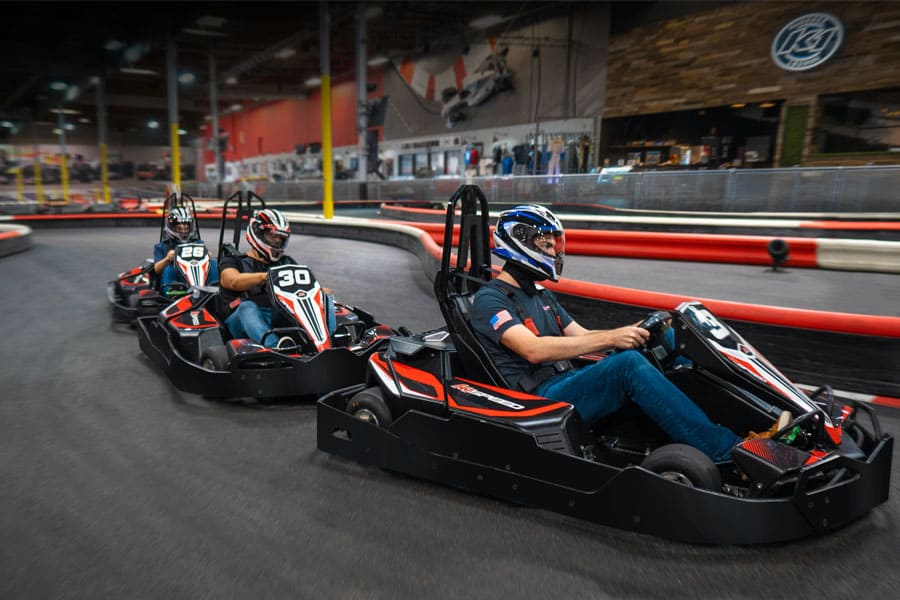 Corporate Events
Birthday Parties
Arrive & Drive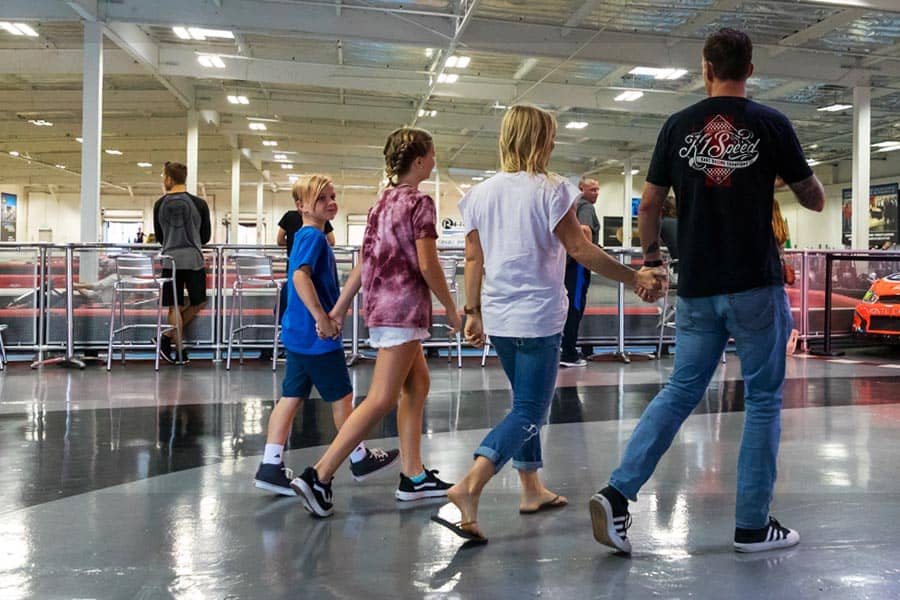 Fun for the
Whole Family!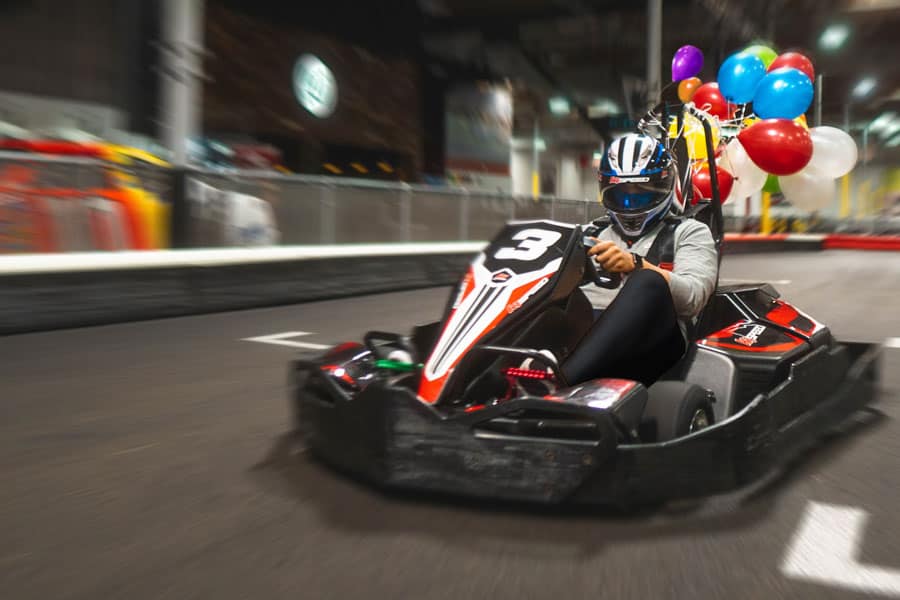 BOOK NOW
WE MAKE IT EASY
TO PLAN YOUR PARTY
AND CELEBRATE
WITH FRIENDS!
Birthday Fun

NOW ACCEPTING PRIVATE GROUP RESERVATIONS
Indoor Karting San Diego, Carlsbad, North County
At K1 Speed Carlsbad, our popular Arrive & Drive racing packages allows racers of all ages to experience the thrill of head-to-head action! Perfect for families, friends and co-workers looking for things to do tonight, Arrive & Drive racing allows individuals to come in anytime, without a reservation, and race in our high-performance all-electric karts. Racers can purchase one race or a combo package of 3 races at a discounted rate. We must warn you though that racing can become addicting! If you want to introduce the thrill of motorsport to a friend, you can also purchase gift cards.
K1 Speed Carlsbad is also an excellent choice for birthday parties, corporate events, team building workshops, bachelor / bachelorette parties and other group events! Our meeting rooms provide a private space for business meetings or celebrations. Plus, we've sourced the best local caterers that'll give your guests a meal to remember! Visit our group events page for more information or fill out an online inquiry and an events specialist will get in touch with you.
Whether you want to blow off steam after a long day at the office in Oceanside, Escondido, Vista, San Marcos, Encinitas, Poway or visiting The Shoppes at Carlsbad, Carlsbad Forum and looking for some thrills this weekend, we invite you to K1 Speed Carlsbad in North County, San Diego. Our indoor karting locations are world-class entertainment venues, complete with professionally designed racetracks, spacious lobbies, authentic racing memorabilia, snack bars, and seating areas featuring leather couches and flat screen plasma televisions. When you're not on the track, you can soak in the atmosphere and talk strategy with your fellow racers. To inquire about closures, please call K1 Speed Carlsbad today. If the track is open, then you are welcome!
Arrive & Drive Indoor Karting
An Arrive & Drive race is a timed event featuring up to 12 competitors. Rather than race each other for position, racers go up against the clock. At the end of the session, the racer with the quickest lap time is the winner and earns the privilege of bragging rights! Despite the relatively simple concept of a race against the clock, a timed session presents a unique challenge as achieving a quick lap time requires consistency and the skills to navigate and pass slower drivers. Just as in qualifying for a Formula One grand prix, one simple mistake can prove to be the difference between first and second place. And the clock doesn't lie, so there are no excuses if your friend, co-worker, parent, son, daughter, or spouse beats you on the track!
Setting a fast lap time and taking home the victory in our Arrive & Drive races also requires mastering our high-performance electric karts. As with all K1 Speed locations, our K1 Speed Carlsbad indoor karting location in North County, San Diego uses environmentally friendly, all-electric go-karts. With 20hp electric motors and maximum torque available from 0 rpm, the karts feature superb acceleration. Unlike gas-powered karts, which can easily bog in slow-speed corners and are weight sensitive, our electric karts can accelerate to top speed nearly instantly, regardless of driver weight. The difference is startling for individuals accustomed to the anemic performance of lawnmower-powered karts. Quite simply, once you try our electric karts, you'll never want to race anything else!
Arrive & Drive racing is offered every day of the year, at every single K1 Speed indoor karting location. Contact K1 Speed Carlsbad in North County, San Diego today to inquire about private closures to ensure that our location is open for business, as well as for driving directions. We make the thrill of wheel-to-wheel racing accessible to young and old alike, and would be happy to welcome you to our 60,000 sq. ft. track, rain or shine! Have questions? Read our FAQ.
It seemed to be closed due to covid-19, but it's a really cool place when it's open.

Amazing experience. I took my family to 6 to this location for a birthday celebration. Karts are fast and kept in great condition.We can't wait to return!

we visited K1 speed as a rather last minute birthday celebration during covid. I feel that they did a good job social distancing, masks, hand sanitizer, ect. the carts were fun. the only reason I didn't give it 5 stars, it may deserve much less for this issue. A wheel flew off one of the carts during our second race. after bouncing off the wall flew back striking the driver in the head. Thank god for helmets. They did ask how our friend was and offered to put him into another cart. He was too shook up to continue driving and I don't know if th hey realized he had been hit as hard as he had been. this type of thing should NEVER happen as ir was not a result of crashing. As a result I am very conflicted about the rating. Most all of us did have a great time. I will do it again. But this type of thing should not happen.

Amazing track, manual electric go cars what else can you ask!!

Much more fun than I imagined, karts are fast, track is a challenge. Staff is super friendly and helpful. And yes the covid-19 precautions are in effect.


Brandon B.
00:39 28 Jul 20

Everardo R.
00:02 19 Jul 20
(Translated by Google) I love it, it's the first time I go(Original)Me encanto, es la primera ves que voy

Luisa Elena Mendoza F.
06:44 15 Jul 20
Always have a great time when you family and I visit.

Hadn't been here for 7yrs. Always a fun place to relieve stress

they really have done a good job since coming back online, they have improved their menu, they now have a couple of great pizzas! Prices are still reasonable for the amount of laps you get, and they have okay a number of games available for the kids.

It's so much fun and they have a wonderful staff, if you're military you can buy your speed passes on base for 1/2 the price!!

Hello,
My family and I came into K1 on the morning of 1/1/16. Your offer to have us come in early so the whole family could enjoy a safe race with my son Garrett, made my year. Garrett suffered a traumatic brain injury in a car accident on 1/2/11, his best friend did not survive the accident. According to the statistics, Garrett should never of come out of his coma. But he did! Slowly but surely he recovers. Doing things we thought would never be possible, like driving a go kart. You and your staff's generosity started our new year off right & created a positive vibe that fortunately carried us through the next day (which can be a very tough day for all of us). An extra thanks for treating Garrett with respect & consideration, like he and all people with disabilities deserve.  Please share this heartfelt thank you to your supervisors and staff.
Forever thankful,
Krista L.
Carlsbad Newsletter Sign Up
Be the first to know about special events and promotions.