Corporate Events
Birthday Parties
Arrive & Drive

Fun for the
Whole Family!

BOOK NOW
WE MAKE IT EASY TO PLAN
YOUR PARTY AND CELEBRATE
WITH FRIENDS!
Birthday Fun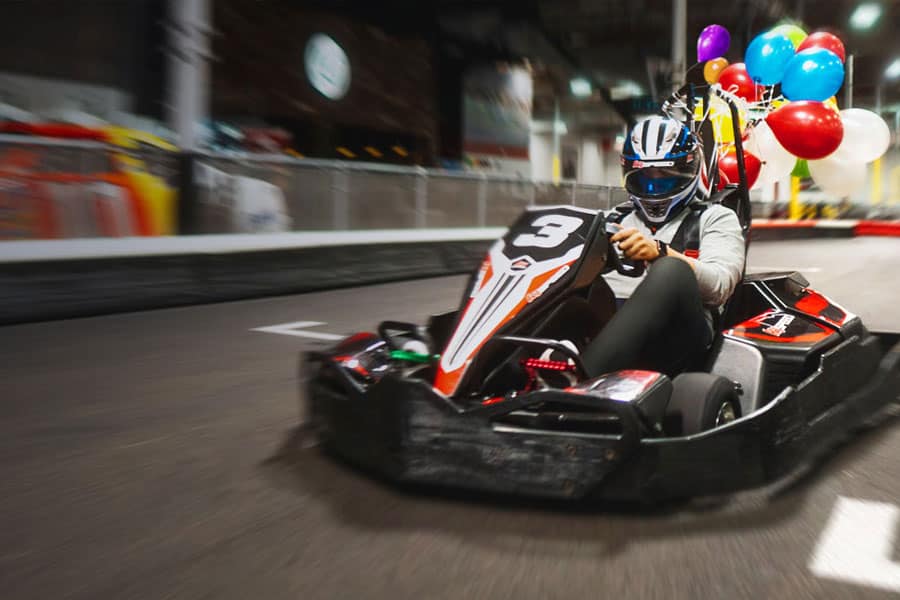 BOOK NOW
WE MAKE IT EASY TO PLAN
YOUR PARTY AND CELEBRATE
WITH FRIENDS!
Birthday
Fun!

NOW ACCEPTING PRIVATE GROUP RESERVATIONS
Indoor Go Kart Racing Dallas
If you want to experience the thrill and excitement of indoor go-kart racing, K1 Speed Dallas is for you. This is a must-visit fun thing to do near Richardson, The University of Texas at Dallas, Adventure Landing Dallas, Plano, Garland, and the McKinney area. Our Texas indoor karting location offers world-class karting to kids and adults of all ages. With professionally designed tracks, advanced safety barriers, remote speed governors and cutoff switches, and pre-race training for all new competitors, K1 Speed provides a safe and controlled environment in which to satisfy your need for speed! Come in today and experience the fun of indoor karting for yourself!
Our All-Electric Go-Karts
The other primary thing distinguishing K1 Speed from your parents' and grandparents' karting tracks is our all-electric karts. Why all-electric karts? Well, for one, we don't have to install or use large ventilation systems to evacuate exhaust fumes. Because our karts emit zero emissions, the air inside our locations is as clean, if not cleaner, than the air outside. There are no noxious fumes or exhaust gasses of any kind.
What we really love about electric karts at K1 Speed, however, is their performance. A typical lawn mower-powered go-kart might make anywhere from five to 10 horsepower – hardly stellar numbers. Furthermore, these peak horsepower numbers are only possible if the tiny engine is spinning away at top speed. Our electric motors make the equivalent of 20 horsepower, and produce maximum torque from zero RPM. Even the biggest, tallest, and heaviest adult racers will get a kick in the pants when they push the accelerator pedal to the floor! Try our electric karts once and you won't go back.
We pride ourselves on making indoor go-kart racing accessible for everyone at K1 Speed Dallas. Our Richardson and Plano-area location is open seven days a week, and anyone can come in to race – no reservations required.* With our Arrive and Drive racing package, you and your friends or family members can come in any day of the week and compete head-to-head in groups of up to 12 people in a race against the clock. Every one of our karts includes live, onboard telemetry so that you can track your lap times in real time.
A number of special racing packages are also available for parties of nine or more people. If you are planning a kids birthday party, teen birthday party, party for adults,  bachelor or bachelorette party, company party,  team building activities, or another special occasion, get in touch with our event planning team to reserve your race package today. We look forward to speaking with you!
Was here in the afternoon. Very nice staff. Had some parents fussing at the manager but he was as calm as he could be. I spoke with him after and he would not elaborate what was going on but he was a nice as could be to my grandson.

(Translated by Google) Funny(Original)Divertido

Fun place kids had a blast

K1 Speed in Richardson is a fun karting course. I wish they didn't throttle the speed so often. I understand the safety aspect but it happens so often here that if really affects the race. Overall, K1 is a fun, short course.

I have taken my son for his birthday the past 3 years. He loves it. He got to ride the adult cars this year and did a good job handling it. IT'S a blast .

Lots of fun need more people to race

Good place to take the family, very behind friendly and decent for experienced drivers. Staff were friendly and helpful, happy to give driving tips when asked.

So much fun!!! Must try it!!

Shannon G.
01:44 11 Nov 20

Had a loads of fun. Long waiting time. Be prepared for that.

(Translated by Google) Very good chicken(Original)Muy buen pollo

Staff was great super fun! They sanitized everything and made us feel like VIPs. Highly recommend

Dallas Newsletter Sign Up
Be the first to know about special events and promotions.