Corporate Events
Birthday Parties
Arrive & Drive

Fun for the
Whole Family!

BOOK NOW
WE MAKE IT EASY TO PLAN
YOUR PARTY AND CELEBRATE
WITH FRIENDS!
Birthday Fun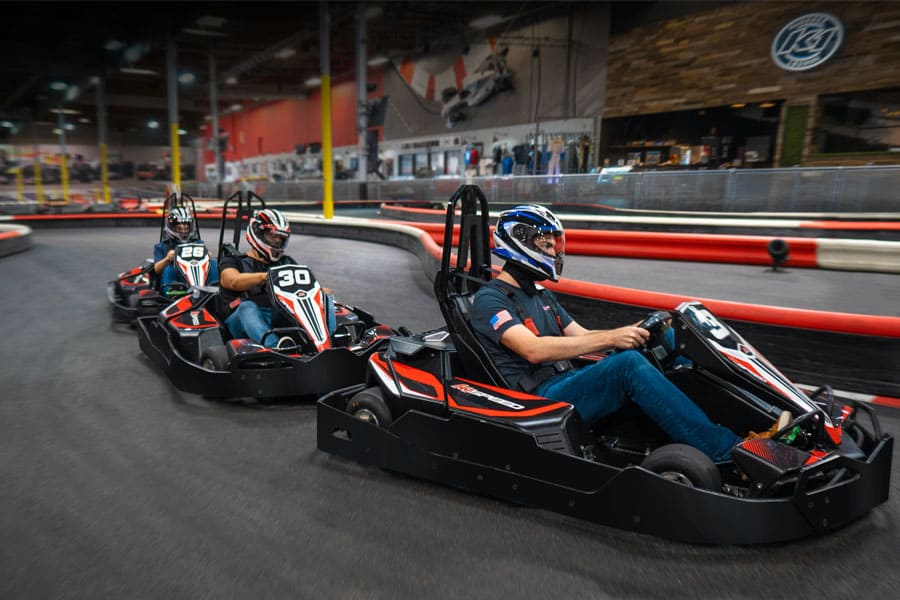 Corporate Events
Birthday Parties
Arrive & Drive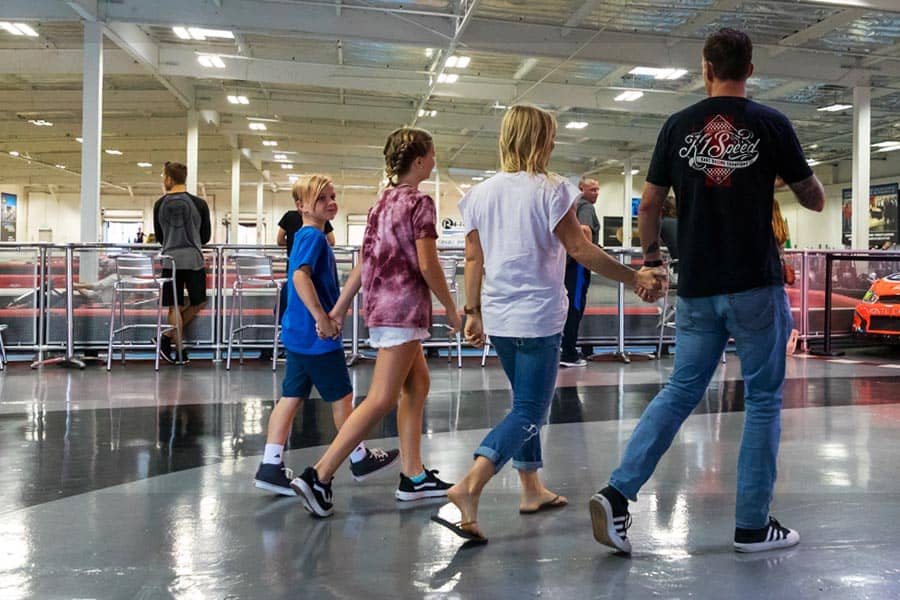 Fun for the
Whole Family!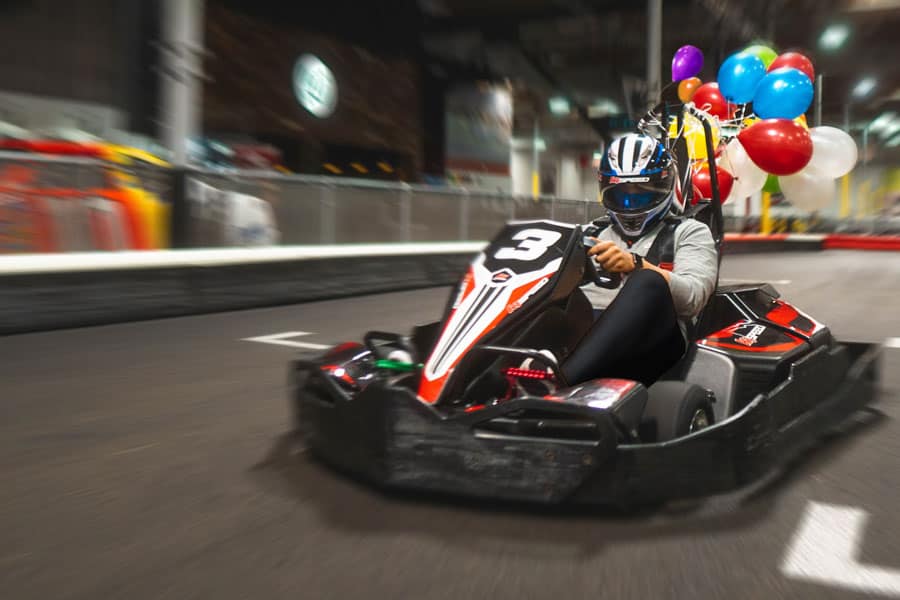 BOOK NOW
WE MAKE IT EASY
TO PLAN YOUR PARTY
AND CELEBRATE
WITH FRIENDS!
Birthday Fun

NOW ACCEPTING PRIVATE GROUP RESERVATIONS
For the best karting in the Dallas-Fort Worth area, look no further than K1 Speed! Our indoor go-kart racing center, situated just across from Six Flags Hurricane Harbor in Arlington, is a world-class entertainment venue and unlike any karting center you've visited before. There are no dilapidated tire walls, no obnoxious two-stroke engines spewing fumes, no poorly maintained and abused karts, no plastic tarps hastily put up to provide cover from the midday sun… at K1 Speed, our aim is to be the best.
Our Arlington, Texas center features a professionally designed indoor kart track, high-performance all-electric European go-karts, an advanced timing system that measures lap times up to a hundredth of a second, and a lobby that is part arcade, part motor sport museum. Whether you're racing wheel-to-wheel with friends or are enjoying a snack while viewing our collection of authentic racing memorabilia, we are confident that you will not be disappointed. We can assure you, one visit to K1 Speed will be all that's required to reset your expectations of what karting should and can be. If you live in Dallas-Fort Worth, Grand Prairie, or Irving, or plan to visit  Champion's Park Texas, Six Flags/Hurricane Harbor, Cowboys Stadium, or Rangers Stadium, visit our Arlington center today to see for yourself – no reservations are required!
Find options to get around in Arlington.
High-Performance, All-Electric Karting – The K1 Speed Difference
So why visit K1 Speed over other local kart tracks? Why not simply drive the karts at the miniature golf course down the street? Quite simply, because the experience that you will have at K1 Speed is incomparable to that offered with traditional, lawn mower-powered karts. Our all-electric European go-karts are high-performance machines, capable of reaching a top speed of 45mph in mere seconds. With a flat torque curve available at all speeds, acceleration is nearly instantaneous – there is no bogging and no delay. If you've grown accustomed to the 5hp karts at your local rental track, you will be blown away by our 20hp, torque-rich electric machines. Don't believe us? Just ask any of the professional racecar drivers that routinely visit our centers nationwide!
The best part about karting at our Dallas-Fort Worth K1 Speed location? Anyone can do it*, without having to make a reservation or being forced to don a racing suit worn by hundreds of other people. At K1 Speed, we provide the track, the karts, and the helmets – you provide the driver and the determination to win! Our most popular race format is our Arrive & Drive competition. Individuals are grouped on a first-come, first-serve basis, and get to race with up to 11 other drivers at a time in a battle against the clock and each other. Vying for position and trying to find a consistent line are the keys to success – at the end of the race, it is the driver with the quickest overall lap time, not the person who is in first, that is the winner. This is a challenge that rewards both skill and strategy, and is a true test of a person's acumen behind the wheel!
Planning a Party? Let K1 Speed Arlington Help
We are the place in the Dallas-Fort Worth area for parties. Our karting center features spacious private rooms which can be rented for kids birthday parties, teen birthday parties, bachelor and bachelorette parties, company parties (bulk corporate tickets can even be purchased), or other private events, and we offer catering through a variety of local businesses. We also offer indoor go-kart racing packages at our Arlington center that are perfect for parties of 8 or more persons. If you have a large group, skip the lines and guarantee that everyone gets to race together – take advantage of our race packages! Whatever your needs, we will strive to meet them. We are dedicated to customer service at K1 Speed, and would be happy to work with you to plan the perfect party or private function, whether it be for business or pleasure (hint: even if it's for business, you're going to have a blast!).
This place was a lot of fun. I loved getting the emails with lap times and I felt like I was improving my lap times as I went on. The only thing that could make it five stars is decreasing the amount of people on the track. There were nine people on the track at once. It only takes ONE person to ruin the experience and with nine people going, you're going to have a bad time.

Spencer H.
17:11 29 Jul 21
Had fun. Price is Ok, go to the web and check it out. Hubby and teens enjoyed it. Pick the right time to have a family race. Will come back.

Ask for a higher speed if you're in a group. If everyone can prove to be nonreckless, they will grant top speed of 45 Mph. If there's a youngster with you or you ride with random you like will get capped to 35 mph.

We need this in Augusta, GA.Had mad fun just watching my Co-Workers go at it on the course.

This place was awesome nice a/c, cars are quick its a whole lotta fun definitely worth the price.

I went with my husband and our two younger kids and we had a blast!

Suzanne S.
23:38 23 Jul 21
Great prices for a gin time!

Jennifer G.
01:12 23 Jul 21
Super fun time for the family. Took my daughter here for her birthday. Be warned tho, it's very addictive! Definitely coming back.

There were to many people that kept slowing me down. There were 2 people who I enjoyed racing with and they were very fast.

The manager (? Older gentlemen) was awesome! We were there for an adult birthday party and he went above and beyond to make our experience wonderful!

judoking247 H.
17:32 20 Jul 21
People there were very nice, first cart was slightly faulty but overall a good experience!

The lady at the front desk helped us with an issue we had with our cards. She was very helpful. The track has a very tight portion and feels fast.

Arlington Newsletter Sign Up
Be the first to know about special events and promotions.