Corporate Events
Birthday Parties
Arrive & Drive

Fun for the
Whole Family!

BOOK NOW
WE MAKE IT EASY TO PLAN
YOUR PARTY AND CELEBRATE
WITH FRIENDS!
Birthday Fun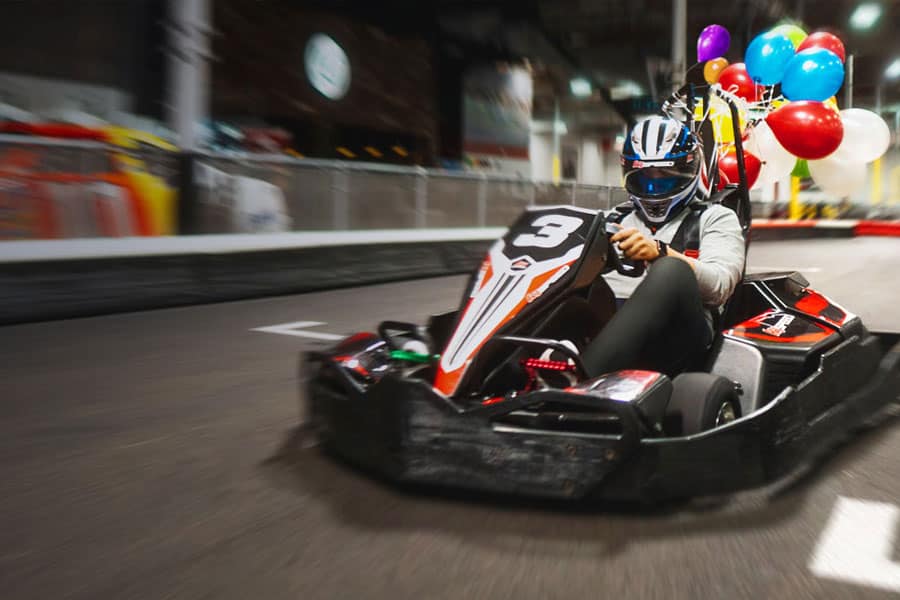 BOOK NOW
WE MAKE IT EASY TO PLAN
YOUR PARTY AND CELEBRATE
WITH FRIENDS!
Birthday
Fun!

NOW ACCEPTING PRIVATE GROUP RESERVATIONS
TEMPORARILY CLOSED WHILE WE RELOCATE TO A NEW, EXCITING, TWO-TRACK VENUE!
Phoenix Newsletter Sign Up
Be the first to know about special events and promotions.
Indoor Go Kart Racing in Phoenix, Scottsdale and Glendale
K1 Speed Phoenix is the authority when it comes to electric indoor go kart racing in Phoenix and the Scottsdale, Glendale Mesa, Tempe and Peoria area! Whether you're a diehard racing enthusiast or are interested in trying authentic, European-style kart racing for the first time, a visit to K1 Speed is a must! Our facility provides a genuine racing experience that is great for novice and experienced drivers alike; our 20hp 100% emissions free electric racing karts can reach speeds approaching 45mph and our high-grip racing surface allows drivers to push the limit through high-speed corners! Needless to say, don't be surprised if the adrenaline is flowing after your race! And we must warn you, speed can become addictive!
At K1 Speed, our tracks are professionally designed to provide racers with an opportunity to hone their skills and feel the rush of head-to-head racing. With high-performance electric karts, a racing surface that allows drivers to maximize speed through corners, and fully air-conditioned facility, we believe that K1 Speed Phoenix is the clear choice for indoor go kart racing in the Phoenix, Scottsdale, and Glendale area, and we think that you'll agree as soon as you turn your first lap!
Experience the Best Indoor Kart Racing in Phoenix
If you want to experience our 20hp electric karts firsthand, there are a variety of options from which to choose! K1 Speed is ideal for kids birthday parties, teen birthday parties, adult birthdays, bachelor parties, special occasions, Bar or Bat Mitzvahs, corporate functions and team building exercises. We would be happy to help schedule an event for you if you are planning on attending with a large number of people. Our facilities have meeting rooms with Wi-Fi connectivity and projection screens and our lobbies are spacious and inviting. We can also help arrange catering if needed.
If you want to challenge some of your closest friends or want a night out with the family, our Arrive and Drive racing is a great choice. Our Arrive and Drive is one of our most popular racing formats, as it allows novices and pros alike to come in anytime and compete against the clock. Working though traffic and chasing down other competitors is a feeling that you will not forget, we can assure you! If you want to experience the thrill of indoor go kart racing, K1 Speed Phoenix is conveniently located near downtown phoenix, Arizona Mills, Phoenix Sky Harbor International Airport, driving distance from Scottsdale, and Glendale residents. Please feel free to contact K1 Speed today to schedule a reservation or to get directions to our Phoenix indoor kart racing location!
Karts are pretty quick and fun to drive. Price isn't too bad to race, helmets and head socks provided. The staff are sticklers that the helmet visors have to be all the way down (not even half down is satisfactory) and the visors/helmets are not vented at all so it can get fairly uncomfortable in them. Misters on the track help somewhat with keeping you cool.

Allan De Y.
16:39 26 Jul 23
Well I met up this gal and we did not attend event. Went to encounters

Charlie M.
11:15 05 Jun 23
Great option for karting in the valley. I'm wondering when it will be back?

Nearly a 2 hour wait due to on going birthdays and an hour plus wait for hot food due to the same circumstances. Plan accordingly.

This was a really good experience. Very nice facilities and equipment for use. Price is a little high and my reason for only 4 stars. Bringing the whole family will put a dent in the checkbook.

William B.
17:41 12 Apr 22
Had a blast!! They run things well. Just don't get the 6 car. It's really slow. Lol!!

Great people at K1 in Phoenix. Steve took time to coach racing with our group and everyone had a blast. Look forward to visiting again and can't wait to see the new track and facility.

My family and I spent roughly 2-3 hours there. We completed 3 races during that time. We had a great time! Great fun for the whole family!!

Stephanie R.
02:38 09 Apr 22
Just wish the cars had power steering LOL. Nonetheless very fun and awesome experience!

Super fun last Tuesday night at the old track.Thanks to Steve and staff✅Don and Travis Myers😎👍Gilbert, AZ.

fast boyyyyy, but make sure no group are there or you will wait for eternity

Had nice time and real good racing experience. Kids loved it and enjoyed very much.

Vinothkumar A.
19:23 05 Apr 22