Corporate Events
Birthday Parties
Arrive & Drive

Fun for the
Whole Family!

BOOK NOW
WE MAKE IT EASY TO PLAN
YOUR PARTY AND CELEBRATE
WITH FRIENDS!
Birthday Fun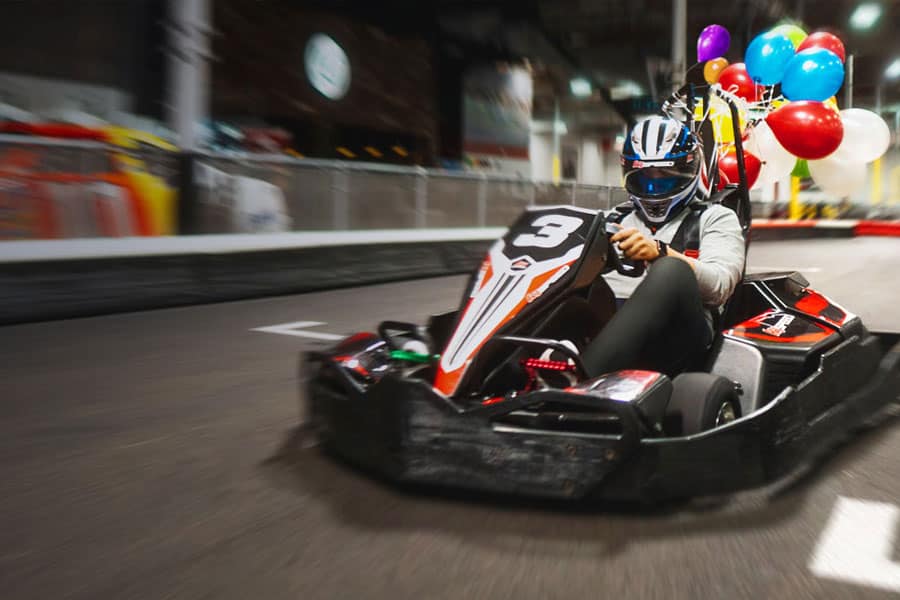 BOOK NOW
WE MAKE IT EASY TO PLAN
YOUR PARTY AND CELEBRATE
WITH FRIENDS!
Birthday
Fun!

NOW ACCEPTING PRIVATE GROUP RESERVATIONS
  Open for Fun Since 2011
  Fully Air-Conditioned Location
  Adult and Junior Electric Karts
  Pit Café Serving Snacks & Drinks
Indoor Go Kart Racing in Phoenix, Scottsdale and Glendale
K1 Speed Phoenix is the authority when it comes to electric indoor go kart racing in Phoenix and the Scottsdale, Glendale Mesa, Tempe and Peoria area! Whether you're a diehard racing enthusiast or are interested in trying authentic, European-style kart racing for the first time, a visit to K1 Speed is a must! Our facility provides a genuine racing experience that is great for novice and experienced drivers alike; our 20hp 100% emissions free electric racing karts can reach speeds approaching 45mph and our high-grip racing surface allows drivers to push the limit through high-speed corners! Needless to say, don't be surprised if the adrenaline is flowing after your race! And we must warn you, speed can become addictive!
At K1 Speed, our tracks are professionally designed to provide racers with an opportunity to hone their skills and feel the rush of head-to-head racing. With high-performance electric karts, a racing surface that allows drivers to maximize speed through corners, and fully air-conditioned facility, we believe that K1 Speed Phoenix is the clear choice for indoor go kart racing in the Phoenix, Scottsdale, and Glendale area, and we think that you'll agree as soon as you turn your first lap!
Experience the Best Indoor Kart Racing in Phoenix
If you want to experience our 20hp electric karts firsthand, there are a variety of options from which to choose! K1 Speed is ideal for birthday parties, bachelor parties, special occasions, Bar or Bat Mitzvahs, corporate functions and team building exercises. We would be happy to help schedule an event for you if you are planning on attending with a large number of people. Our facilities have meeting rooms with Wi-Fi connectivity and projection screens and our lobbies are spacious and inviting. We can also help arrange catering if needed.
If you want to challenge some of your closest friends or want a night out with the family, our Arrive and Drive racing is a great choice. Our Arrive and Drive is one of our most popular racing formats, as it allows novices and pros alike to come in anytime and compete against the clock. Working though traffic and chasing down other competitors is a feeling that you will not forget, we can assure you! If you want to experience the thrill of indoor go kart racing, K1 Speed Phoenix is conveniently located near downtown phoenix, Arizona Mills, Phoenix Sky Harbor International Airport, driving distance from Scottsdale, and Glendale residents. Please feel free to contact K1 Speed today to schedule a reservation or to get directions to our Phoenix indoor kart racing location!
It was awesome it was my first time here so fun the staff was nice

My fiance brought me here for my birthday and the experience was awesome, I had a lot of fun and would definitely go again.However, they do not get the full 5 stars because the staff (very young employees) were very antisocial, sped through the instructions like it was a race, no one ever made any eye contact and no one was particularly friendly. They could really use some team building and social/friendly skills to make this an even better place to let loose and have fun.


Really fun place especially if you're into racing (like me lol)Had a great time. Great vibe with enough safety to let you have fun but still come out with all the limbs you went in with

Always a great time. Kenna was so nice at the front desk and helped my nephew learn the best lines of the track before we went out on our first race. They also have a tunnel that has lights in it which was kinda awesome for a go kart track. I'd happily go again.

Kids loved it, had a blast for sure! 👍

My family (wife and 3 school aged kids) and I really enjoy spending time at the track. Regardless of age, skill level, or competitiveness, a trip to K-1 Phoenix is a great time. My 11 year old son is HOOKED and asks almost daily if we can go get in a few laps. The guys and girls at the facility are mostly upbeat and seem to enjoy working here (there are random negative interactions which I'll chalk up to someone, maybe me, having a bad day). All the time we've spent at this location over the past month-ish has given us the opportunity to develop some pretty good relationships with the track staff.The primary reason I withheld the 5th star has more to do with what I assume is the corporate model rather than any policies at this location. Race prices are reasonable, but from that baseline price point there is little, if any, practical benefit to becoming a member. Typical membership models offer a substantial difference in a la carte menu items. However, at K-1, membership does not seem to have many privileges. Consider the framework where a monthly membership fee gives you a free race and discounted individual race prices, not the case at K-1. Furthermore, a member who buys races and subsequently loses interest or is otherwise unable to complete those races cannot transfer them to another member. Again, I'm sure these items (amongst others I don't care to unpack at this time) are a result of corporate guidance which hamstring individual franchise owners. The personal relationships I've established with employees at K-1 Phoenix are exponentially more powerful than any brand loyalty I have to K-1. Because of this dynamic, Octane in Scottsdale has a decent opportunity to win our family business. If we get the feeling we are merely dollar signs and not a valued K-1 stakeholder, the ties that find us bound to K-1 Phoenix can easily be broken.All in all, we really like going to K-1 Phoenix and would recommend a track outing to other families and individuals. Although, there is substantial room for an improved experience, particularly if K-1 is in some form following the lead of F-1 and their newfound commitment to inclusion and diversity. Additionally, an equal application and enforcement of current face covering guidelines would help as well. Some guests are allowed to reject the professed mask requirement in the facility.

jpsheaffer
04:24 13 Jan 21
Had a blast! Service was excellent & explained everything clearly!

Alot of fun , even for an old guy like me!!!

I went on Christmas day and it's alot of fun and you don't have to wait to long too drive the carts. They have a good system down. They don't sell any alcohol tho

That was extreme fun I'm definitely going to go back thank you

Had a ball going back for sure

Phoenix Newsletter Sign Up
Be the first to know about special events and promotions.