Corporate Events
Birthday Parties
Arrive & Drive

Fun for the
Whole Family!

BOOK NOW
WE MAKE IT EASY TO PLAN
YOUR PARTY AND CELEBRATE
WITH FRIENDS!
Birthday Fun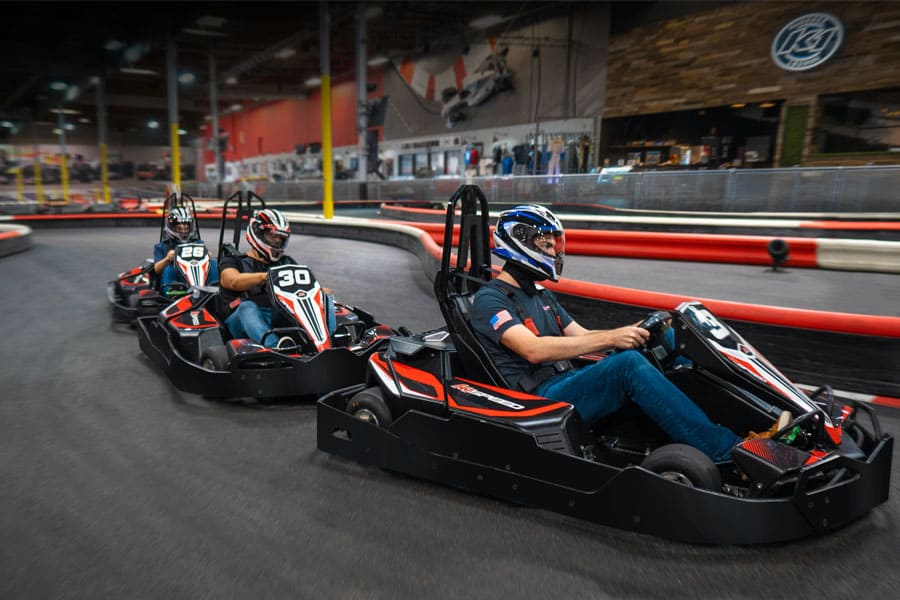 Corporate Events
Birthday Parties
Arrive & Drive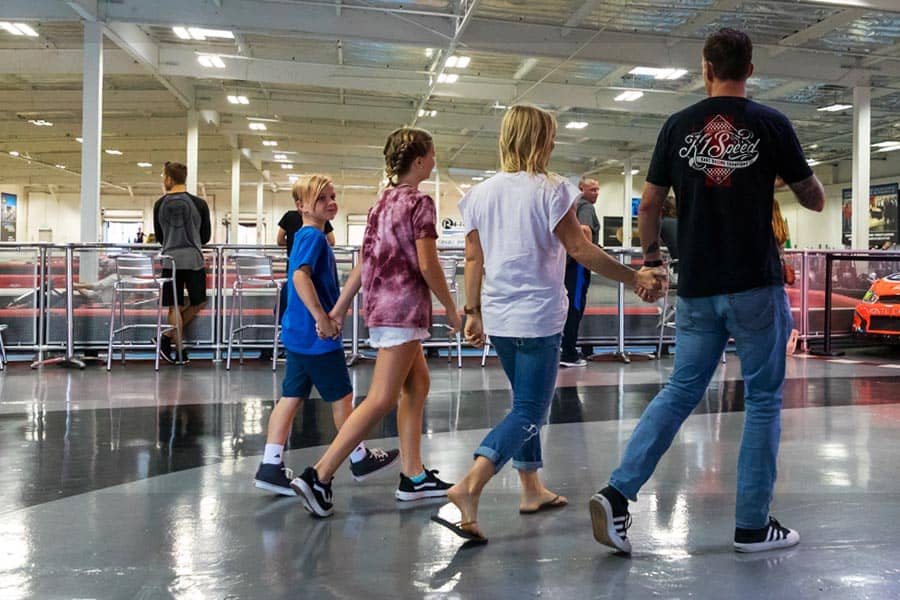 Fun for the
Whole Family!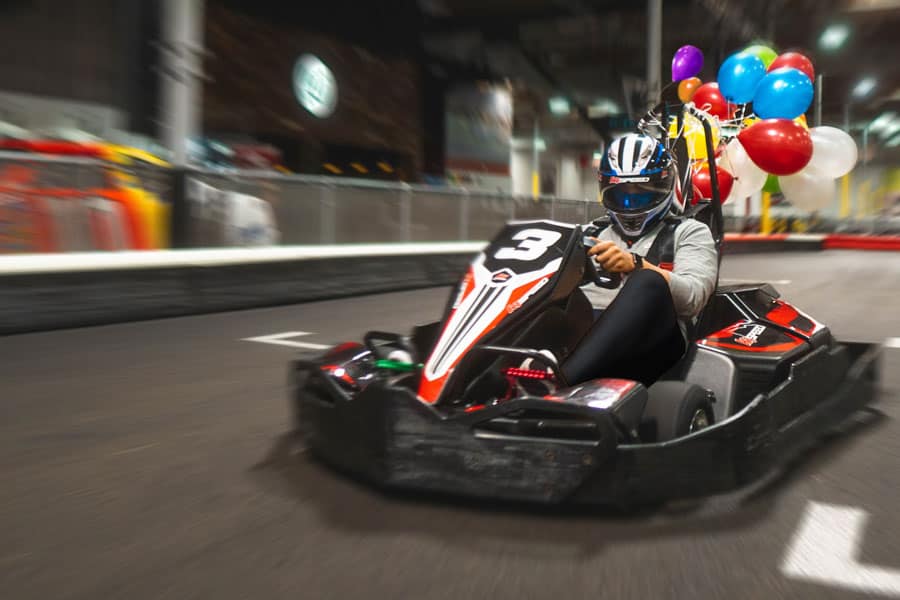 BOOK NOW
WE MAKE IT EASY
TO PLAN YOUR PARTY
AND CELEBRATE
WITH FRIENDS!
Birthday Fun

Rogers Newsletter Sign Up
Be the first to know about special events and promotions.
K1 Speed Roberts – Arrive & Drive
Get ready for an adrenaline-pumping experience like never before! K1 Speed, the ultimate indoor go-kart racing destination, is coming soon to Rogers, Arkansas!
Thrill-seekers, racing enthusiasts, and families alike, brace yourselves for the most exhilarating racing adventure you've ever encountered. With state-of-the-art electric go-karts, K1 Speed offers an eco-friendly and high-performance driving experience that will leave you breathless. Feel the rush of speed as you navigate through challenging twists and turns on our professionally designed indoor tracks, ensuring maximum excitement and safety for all.
Whether you're a seasoned racer or a first-time driver, K1 Speed caters to all skill levels. Our cutting-edge timing system accurately measures your lap times, allowing you to compete against friends and family or challenge your personal best. Want to take it to the next level? Join our competitive leagues and unleash your inner racer as you vie for victory and claim the title of the fastest driver in Rogers!
Be prepared to make unforgettable memories with your loved ones or colleagues, as K1 Speed is the ideal venue for birthday parties, corporate events, team building, and group gatherings.
Get your heart racing and stay tuned for the grand opening of K1 Speed in Rogers, Arkansas! Experience the ultimate racing adventure that will leave you craving for more.
Arrive & Drive Racing – Race our Karts, Anytime
Though we offer a wide range of race packages for parties of 8 or more, our most popular attraction is our Arrive & Drive race option. In an Arrive & Drive race, up to 12 racers at a time take to the track to race against the clock. Rather than race for position, which can reward pure luck or simply good blocking skills which we highly discourage, our Arrive & Drive races reward consistency, skill, and strategy. Setting a good lap time often involves navigating slower traffic or creating a hole so that you have a free and open track ahead of you. Just like qualifying in Formula One, one wrong move can ruin your lap time and prevent you from taking home the victory. We offer live telemetry so that you can monitor your on-track performance in real time and make necessary adjustments. After the race, you can compare your overall performance to every participant who has ever attended a K1 Speed indoor karting center.
Experience the Thrills Today
If you're interested in go-kart racing, the Arrive & Drive option at K1 Speed is for you. As any number of professional race car drivers can attest to, including Travis Pastrana, Boris Said and Denny Hamlin of NASCAR, Juan Pablo Montoya, and Ron Capps, go-kart racing at K1 Speed is a genuine thrill! In fact, don't be surprised if the adrenaline and sweat are pumping when you get off of the track. We must warn you that speed is addictive though! Many first-time racers buy one race to begin with, but you'll find that many of our regular competitors opt for the combo pack of 3 races!
The Best Event Venue in Rogers, AR!
K1 Speed is the best event venue in Rogers, Arkansas! No matter the reason, we can put on an event or party that your guests will never forget. These include, but are not limited to:
Kids Birthday Parties
Teen Birthday Parties
Adult Birthdays
Bachelor Parties
Company Parties / Corporate Events
Corporate Team Building Experiences
Great place, tight and challenging course. Polite and responsive staff.

It was so fun to ride! We came back the following day to ride again.. see you again soon!!

My group went on a Thursday afternoon and we got right in, didn't have to wait at all which was awesome. The staff are all very nice! We had a great time!

Mzlovely S
17:09 16 Sep 23
Great family experience. Very attentive staff, and managers participating in all facets of prep and operations.

Great time got there early in the morning and had a blast!

I had a great time and I like the way the track was set up so we can drive on both sides of the building. I don't like how the staff members slow your car down remotely and make people loose the race. I had fun at my friends birthday party. I did not like that they served us nasty tap water in a pitcher to drink. K1 Speed makes a lot of money and needs to invest in an ice machine.

Daisy and her team was able to help my big group enjoy our time. We are coming back because of the Daisy and the staff. Thank you Daisy

The Marshal Simon during is exceptional and was does an excellent job!

Always a great time at K1.The stafff was great!

Definitely worth the first time experience for my son's birthday with his buddies. BBQ burger was killer, however extremely over priced for a personal pizza! If it wasn't for the lack of restaurants in the area, I would have left or brought my own food. Unfortunately, the wait time due to parties was a bit much, over an hour and half which is understandably unforseen. The staff were professional and patient with us being new to this.

Place was clean, employees were helpful and friendly. There is a height limit of 48 inches, and my son was a tad over. They told us there was a chance he may not be able to drive if he couldn't reach the petals. Luckily, he was able to!! He was apprehensive at first, but ended up loving it! There may be a wait for races to be over before your group (junior-adult-junior-Adult, at least that was what they did on Saturday). We will def be back!

Came to K1 because it's what my grandson wanted to do with family on his birthday! My daughter, stepson and myself raced with adults and had a good time! My two grandsons and granddaughter did an amazing job and your employee was fantastic with kids and he seemed to really enjoy helping the kids have fun