Corporate Events
Birthday Parties
Arrive & Drive

Fun for the
Whole Family!

BOOK NOW
WE MAKE IT EASY TO PLAN
YOUR PARTY AND CELEBRATE
WITH FRIENDS!
Birthday Fun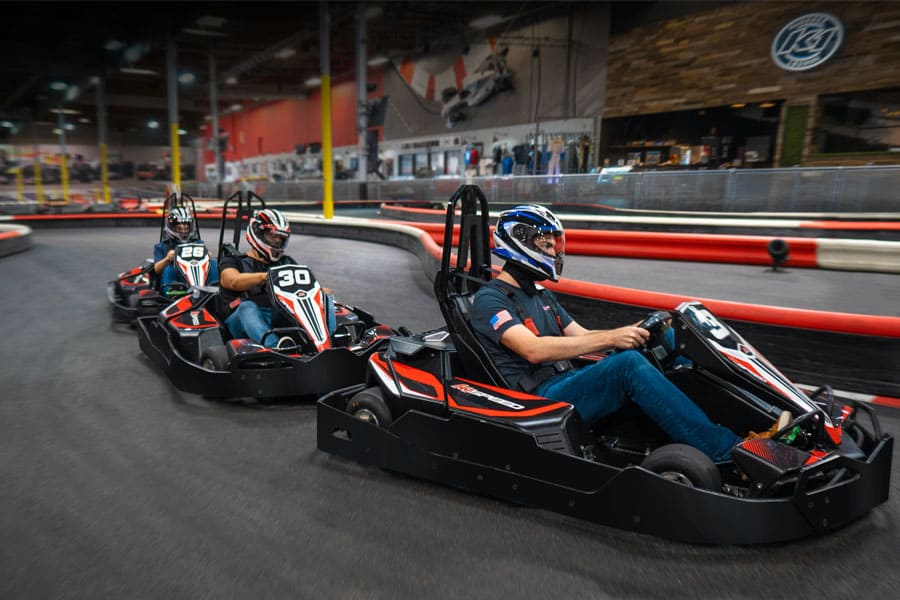 Corporate Events
Birthday Parties
Arrive & Drive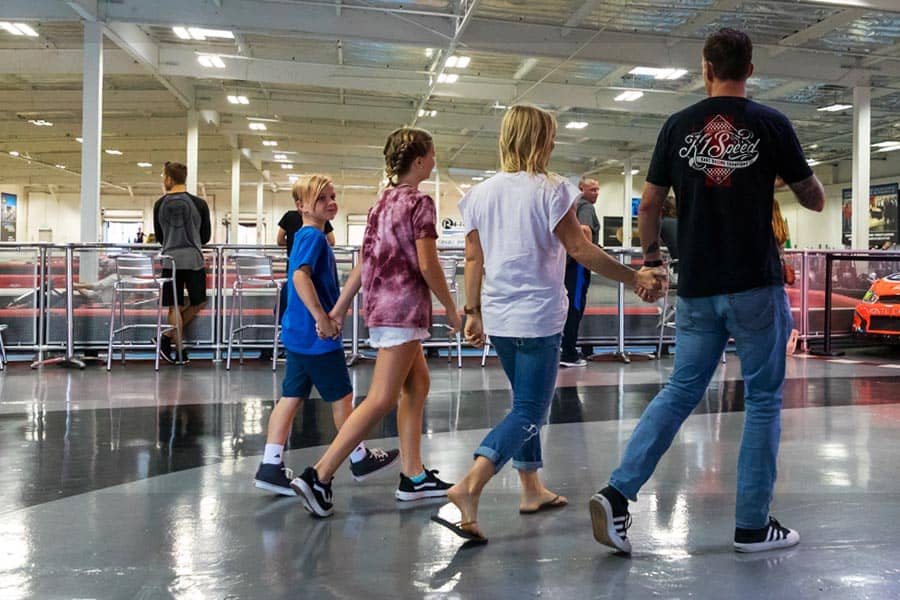 Fun for the
Whole Family!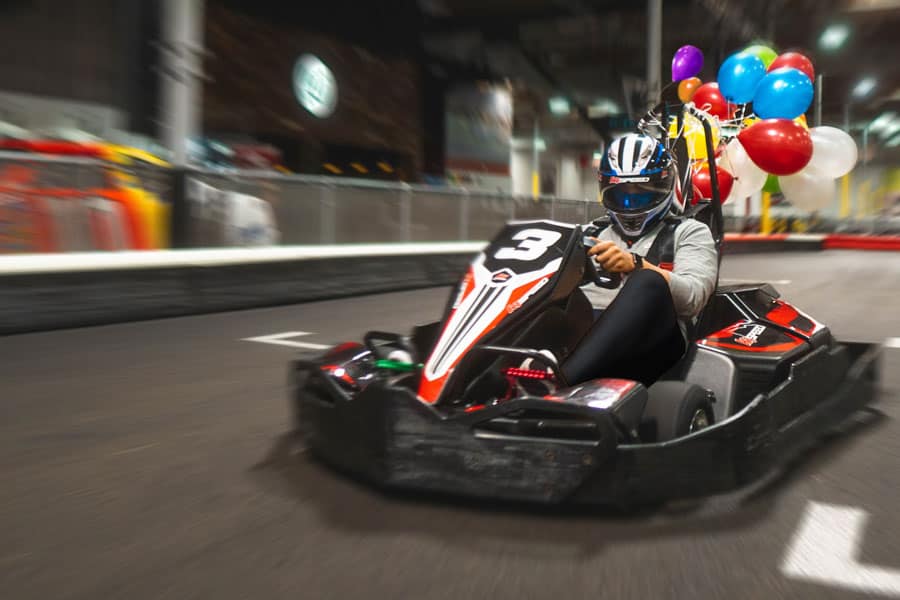 BOOK NOW
WE MAKE IT EASY
TO PLAN YOUR PARTY
AND CELEBRATE
WITH FRIENDS!
Birthday Fun

NOW ACCEPTING PRIVATE GROUP RESERVATIONS
Indoor Karting Sacramento
Indoor Go Kart Racing Sacramento
K1 Speed is proud to offer all-electric indoor go-kart racing in Sacramento! Whether you attend UC Davis or live in the communities of Roseville, Rancho Cordova or Citrus Heights, our indoor karting location is the destination to  Golden State capitol, Sutter's Fort State Historic Park, Golden 1 Center. In addition to our track, our Sacramento location features a museum-quality collection of authentic racing memorabilia, including signed race apparel, full-size racecars, and collectible artwork. When not perusing through our collection, guests can relax in our spacious lobby, purchase food and refreshments at our Paddock Lounge, play video games in-between races, or stay abreast of the on-track action with our plasma screen televisions, which display live telemetry from each race. Our aim is for our guests to have almost as much fun off of the track as they do on. The real reason to visit K1 Speed, however, is the racing. Take everything you know about go-karts and throw it out the window – if you haven't raced the high-performance electric karts at K1 Speed, you haven't gone go-kart racing. Our location is open seven days a week and we invite you to come in to K1 Speed Sacramento today! There's never a bad time to experience indoor go-kart racing!
Arrive & Drive Racing – Indoor Karting
Our Sacramento indoor karting location is open to everyone, young and old.* We want everyone to be able to experience the thrill and excitement of wheel-to-wheel racing, and at K1 Speed, we pride ourselves on providing a genuine racing experience. In fact, some of our most loyal customers are professional racecar drivers, who visit whenever they can to satiate their adrenaline needs and have some fun behind the wheel. You don't have to be Ken Block or Juan Pablo Montoya to enjoy a race at K1 Speed, however. In fact, you don't even need a reservation. Our most popular racing option is our Arrive & Drive racing package, which allows individuals to come in any day of the week, any time of day to test their mettle and skills against up to 11 other drivers in a race against the clock.
This fun, thrilling event pits up to 12 individuals at a time in a timed race. With equal machinery, the key to victory is not track position, but rather strategy, skill, and consistency. This provides an even playing field as your chances for victory aren't arbitrarily determined by where you start out in line. To monitor the performance of each racer, every kart is outfitted with advanced data loggers which wirelessly transfer live telemetry to a screen over the track. This allows racers to monitor not only their performance in real time, during the race, but to monitor the performance of their competitors as well! At K1 Speed Sacramento, we treat indoor go-kart racing with the respect it deserves, and understand that karting is the gateway to professional motorsports for many people. At K1 Speed, you'll be on the right path! And all you have to do is show up.
Special Events, Corporate Functions, and More
In addition to our Arrive & Drive racing package, groups of 9 or more can also reserve race packages for exclusive use of the track and reserved race times. These packages are ideal for special events, private parties, celebrations, corporate events, and more. If you have a group of 9 or more people and are interested in planning one of the following, we encourage you to explore our racing packages.
We can assure you that you will not be disappointed in your experience, nor will your guests! In fact, it will likely be one of the more memorable parties they have attended in quite some time. If you are interested in a private party, we have meeting rooms that will satisfy your needs, and we can arrange catering should you be interested in feeding a large group of people during your event. So what are you waiting for? Stop reading and start racing! Our indoor go-kart racing packages are perfect for nearly any event – contact K1 Speed Sacramento today to arrange a reservation.
Took my niece, it was really fun!

Fun place, everyone enjoyed the experience. The only downside was that they mix kids in with adults, and the kids have a speed limiter and aren't always great about letting others pass. It also does not help when the kid's dad is also on the track and aggressively passes everyone else, literally as the other people are trying to not be unkind to his children... Poor form dad!

I love the place I really wish it won't be moving soon but I'm still gonna go to where ever it's is to go again


Had a blast with the kids!

Insta @TheRealDSummersLIT 🔥🔥🔥

D Summers T.
17:49 14 Jun 22
Great fun, carts seemed more reliable and faster this time. Staff is friendly and helpful with the young ones. Great awareness as there was some debris on the track and they cleaned it up quick and we were back to racing.

K1 Speed is not only a great go-kart track but it's also a friendly place to spend your Saturday afternoons. I've been their customer for over two years now and I always have a blast. If you're looking for an exciting day out with your family and friends, this is the place to be. The staff is wonderful and will always help

My family has been coming here for several years since my brother discovered the place. We have celebrated a couple of milestone birthdays there. I think the kids having a great time is a highlight!

Was an awesome place to be they had lots of racing memorabilia and had an arcade with an upstairs bar all with a view on the track……karts go up to 40 mph but the child karts are a bit slower

Christopher M.
05:07 31 May 22
Safest place to speed and drift!

Carrollynn B.
20:40 30 May 22
Fun time was had by all..

Scott or Felicia D.
04:10 25 May 22
Sacramento Newsletter Sign Up
Be the first to know about special events and promotions.