Corporate Events
Birthday Parties
Arrive & Drive

Fun for the
Whole Family!

BOOK NOW
WE MAKE IT EASY TO PLAN
YOUR PARTY AND CELEBRATE
WITH FRIENDS!
Birthday Fun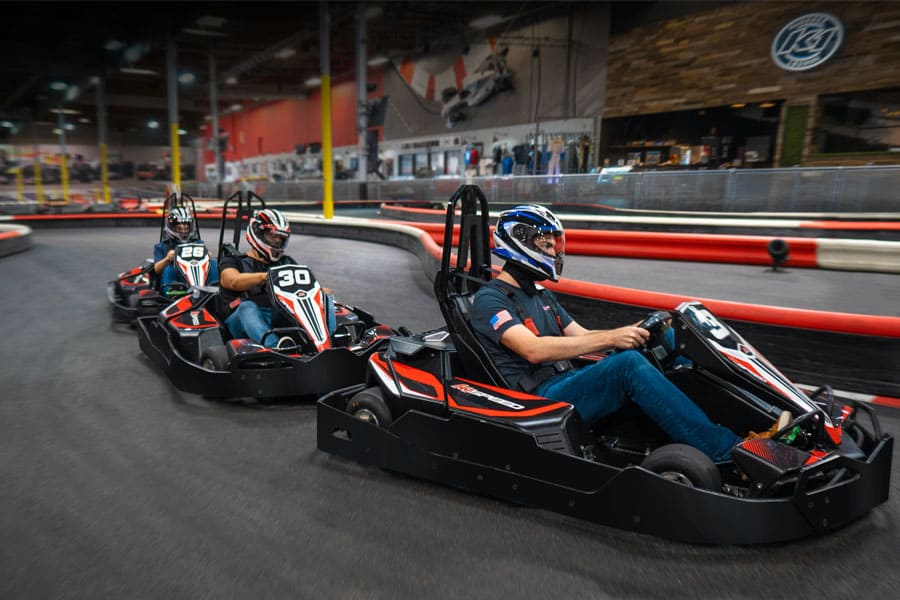 Corporate Events
Birthday Parties
Arrive & Drive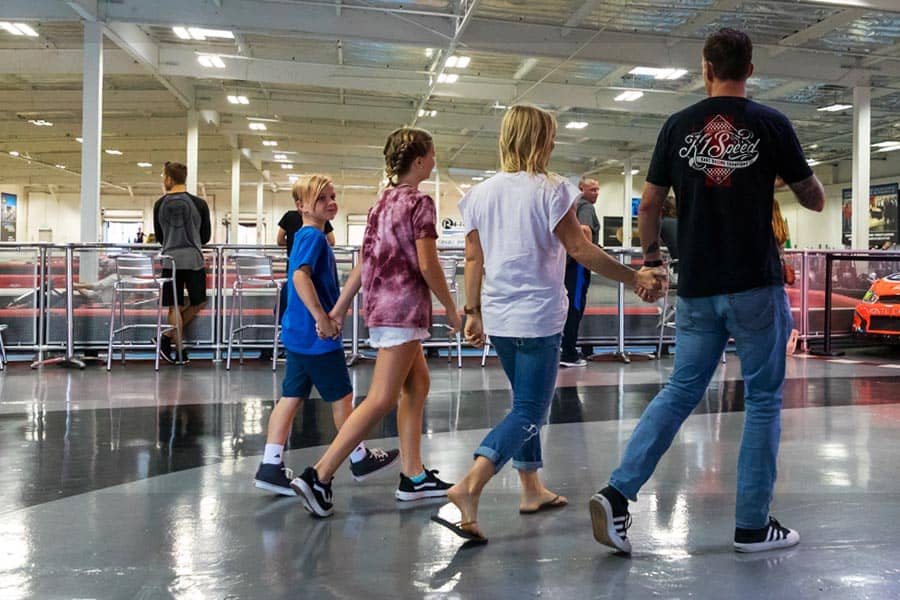 Fun for the
Whole Family!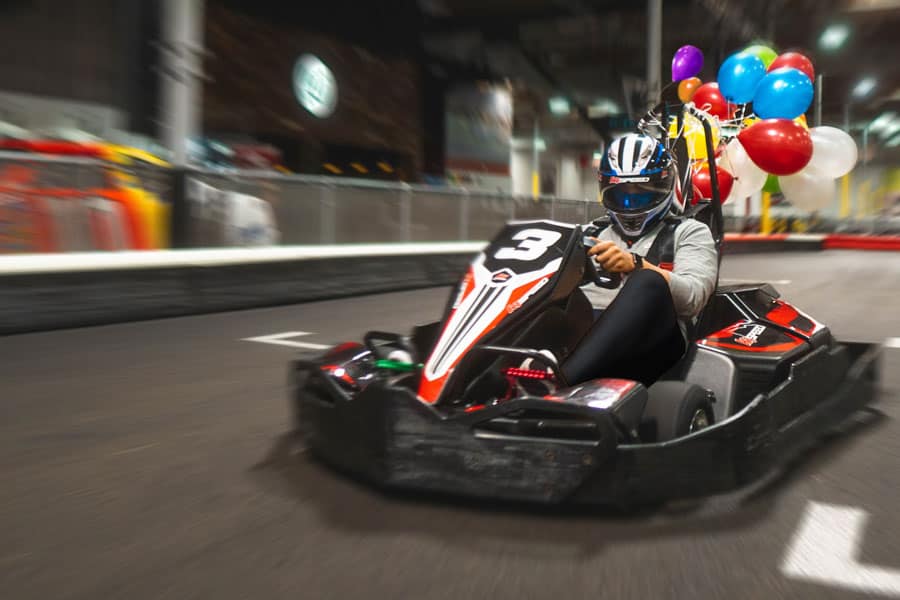 BOOK NOW
WE MAKE IT EASY
TO PLAN YOUR PARTY
AND CELEBRATE
WITH FRIENDS!
Birthday Fun

NOW ACCEPTING PRIVATE GROUP RESERVATIONS
Indoor Karting San Antonio
Indoor Go Kart Racing San Antonio
With locations in Houston and Austin, K1 Speed has introduced the sport of indoor go-kart racing to people throughout Texas. With our San Antonio karting location, we've now brought the sport to Alamo Heights, Castle Hills, Leon Valley, China Grove, Converse, and Southwest Texas (Lubbock, Amarillo, Midland) as well.
If you've never been to a K1 Speed location before, forget everything that you think you know about go-kart racing. At K1 Speed, we offer a truly unique – and thrilling – experience. Gone are the anemic, heavy, unreliable, gas-spewing karts of your youth. In their place are state-of-the-art, high-performance, zero-emission electric karts that offer unparalleled performance – performance that is in the reach of nearly anyone yet potent enough that extracting all of it requires skill, dedication, and practice.
If you looking for things to do tonight, Whether you're a novice who has never turned a wheel in anger or are a veteran enthusiast who rides motorcycles, races stock cars, or attacks the flat track every other weekend, we are confident that our location will not only meet, but exceed your expectations.
If you'd like to experience indoor go-kart racing yourself, visit our South West Texas location today. We are situated within close distance of Leon Valley and Alamo Heights, just 15 minutes from the River Walk and close to SeaWorld, Ingram Park Mall, San Antonio International Airport.
A Corporate Event Venue in San Antonio
K1 Speed is an excellent corporate event venue in San Antonio. Many businesses large or small choose K1 Speed for their company events due to a number of reasons:
Our indoor go kart racing experience is incredibly thrilling for adults
It's easy and quick to plan thanks to our knowledgeable and helpful event specialists
We offer competitive rates to other company event venues
Our staff takes pride in delivering a memorable experience for all guests
We offer the best catering from the San Antonio area
Plenty other reasons that keep companies coming back for more
Be sure to explore our company event page today to learn more about our race packages, private meeting rooms, and more.
Plan a Birthday Party, Bachelor Party or Special Event
Though our Arrive & Drive package is one of our most popular racing options, we are also happy to host kids birthday parties, teen birthday parties, adult birthdays, bachelor and bachelorette parties (yes, women love racing at K1 Speed just as much as the men do, and they're just as fast!), team building exercises, corporate events, and other private functions.
For private parties, we offer a number of unique racing packages as well as private room rentals. If you're interested in planning a party that your guests will be talking about for weeks and months to come, then might we suggest you consider indoor go-kart racing at our San Antonio location – you will not be disappointed!
Friendly Staff and instructor helped my 8year son get his barrings for his first time on a track.

Awesome staff and great track. If you're new to karting this is the best place to be.

Excellent experience. Good time.

Went here with my daughter for her first time. Everyone was extremely helpful and genuine from the beginning. My daughter was big enough to ride the adult karts but instead of just sticking her in one they made a suggestion to see how well she fits and put her in one for a test. Their suggestion was to put her in the junior karts for safety and as a parent can you really ask for anything else? The racing was fun and everyone at the track was personable and they truly made it a great time. My daughter loved her first time racing and immediately said she wanted to do it again.Great job to everyone working and a thank you for caring!In one visit you gained two loyal customers and we'll be back with our friends and family!!

Benjamin K.
21:19 05 Jan 22
Great place for kids. They make it safe and I like that it was about beating your own lap time instead of winning a race

Staff super attentive knowledgeable and customer friendly !!!

Muy buen servicio, los go karts y la pista fenomenales

We happened to go on glow night and were pleasantly surprised. While on the track, the lights aren't too distracting and it is still bright enough. The staff was friendly and gave us a few pointers on how to get faster lap times. We visited late in the evening and there were no other karts on the track.

A fun place for some carting or hanging out after a race or two. These indoor carts these do move pretty good I wouldn't underestimate them! I just wish the track was a little bigger but is fun for the casual races and for those searching or something technical to practice on. They do fun events like drift nights to keep things fresh. The carts seem to be in great shape and its clean, I would definitely check K1 Speed out if you never been and want to try karting or if you like karting already.

What a fun night with co-workers! K1 Speedway was an adventure, the staff were all great and they had wine available!

As you can see. Geronimo is living his new life to the fullest. Thanks K1 SPEED. Thanks Jen and the K1 Speed team


San Antonio Newsletter Sign Up
Be the first to know about special events and promotions.