Corporate Events
Birthday Parties
Arrive & Drive

Fun for the
Whole Family!

BOOK NOW
WE MAKE IT EASY TO PLAN
YOUR PARTY AND CELEBRATE
WITH FRIENDS!
Birthday Fun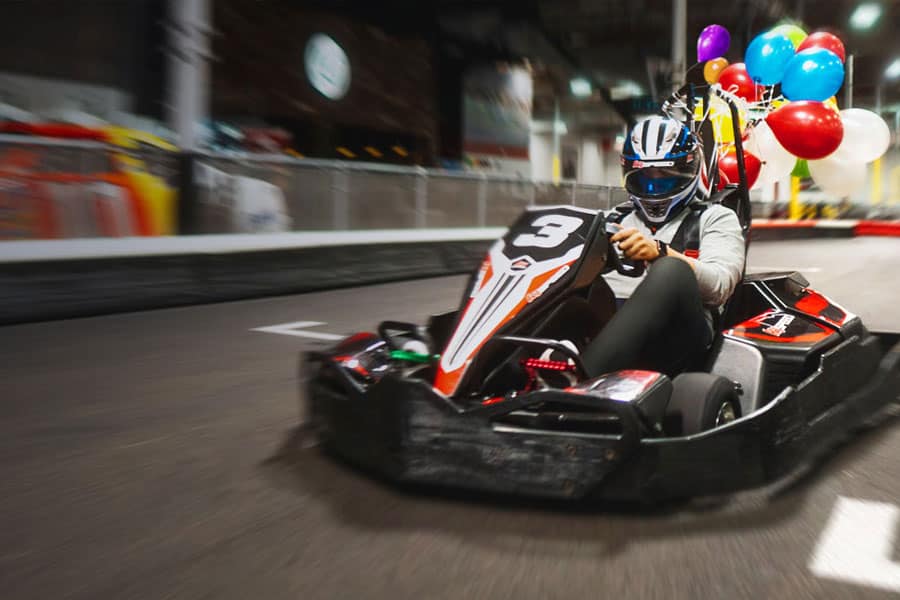 BOOK NOW
WE MAKE IT EASY TO PLAN
YOUR PARTY AND CELEBRATE
WITH FRIENDS!
Birthday
Fun!

NOW ACCEPTING PRIVATE GROUP RESERVATIONS
  Open for Fun Since 2007
  Adult and Junior Electric Karts
  Pit Café Serving Snacks & Drinks
Indoor Go Kart Racing Near Seattle, Redmond and Bellvue
While known for being the home of Microsoft and Nintendo of America, Redmond is also home to the premier indoor go-karting destination in the country – K1 Speed! Our Redmond location is located in King County, Washington and is near the Bellevue and Seattle area and is perfect for corporate functions, company events, and special occasions. Our track features a fast straight that will see you reaching top speeds of over 40 miles per hour before entering two twisty sections that promote excellent overtaking opportunities. You'll love our electric go-karts that deliver instant power, and we're proud to be the only kart racing track in Washington State that runs environmentally-friendly go-karts! While not racing on track, refuel at our Pit Café with cold refreshments and warm snacks, or play some rounds of billiards in our Pool Room. Our Lobby and Pool Room can also be rented out if you're looking for a unique spot to celebrate a birthday. For the best go-kart racing in the Pacific Northwest, K1 Speed Seattle is your destination!
Electric Karts – A Revolution in Racing
At K1 Speed, we have tons to offer our customers, but what separates us from the competition is our all-electric, zero-emission high-performance karts. These European karts are designed and built to the highest standards and deliver genuine thrills. If you're accustomed to the lawn mower-powered karts at your local amusement park, you are in for a surprise. With 20hp electric motors and flat torque curves, our karts can reach a top speed of 45mph, and their acceleration can push you back in the seat. No bogging, no limited power band – just pure, usable power at any speed. The other benefit of all-electric karting is that there is no pollution. We are able to operate indoor kart tracks, and thus provide racing 365 days a year in a city that averages just 60 sunny days per year, because our karts emit no exhaust of any kind. Our centers are quiet, comfortable, and free of emission fumes, and you will be completely comfortable when out on the track.
The Ultimate Racing Experience
We strive to provide each and every one of our customers with an authentic racing experience that is high on thrills and excitement. Our high-performance electric karts all but guarantee this, but to ensure that every go-kart racing competitor at K1 Speed Seattle makes the most of his or her track time, we also provide live telemetry and an advanced performance measurement system. While on the track, a data logger on your kart relays live lap times to a projection screen that is clearly visible when crossing the start/finish line. This allows you to track your performance and measure it against your on-track competitors. This live data logging system makes racing at K1 Speed an immersive experience. Once your race is complete, you can compare lap times, consistency, and ranking with your fellow competitors, and see how your performance measures up against the more than 1 million people who have raced at our indoor karting centers.
Put Your Skills to the Test – Today
We invite you to come in and try our go-kart racing yourself. Located in Redmond, K1 Speed Seattle is near Marymoor Park, Microsoft Visitor Center, Idylwood Park, Marina Park Pavilion. Our Arrive & Drive races pit you against 11 other competitors in a battle for fastest lap time, and are as close as you can get to a professional racing experience without a competitive license!
And if you're looking to host a kids birthday party, teen birthday party, adult birthday, bachelor party, corporate event, or a team building program in the Bellevue and Kirkland area, K1 Speed is the place! Our group race packages provide a unique experience with a reserved time, private racing and more! Add on a meeting room and one of our preferred caterers and you've got an event to remember. Visit our Group Events page to learn more, or submit an inquiry by filling out an online booking form and an events representative will be in touch with you soon!
Fun racing and the folks who work there are passionate about K1 and enhanced the experience.

Daughter had alot of fun at K1 Speed, riding go carts, for her friends birthday!!

Omg so listen... We are not local and drove an hour + to come this way for something to do something fun... we originally had other plans but honestly it didn't work out it actually sucked to the point we left. Hoping there was something else around we came across this spot and I'm so glad we did.. Chewy was awesome and friendly made it a good vibe 😊then you get Anam who's quick with the jokes making it even that much better of an experience. These kinds of people are why businesses can keep going. We shall return. 1 bad point tho sorry to say the steering is waaaaaay to tight and I almost had to stop in the middle of my second race because my wrist hurt so bad. The guys running the track don't really pay attention when it comes to having the slow drivers move over having to stay stuck behind someone for 2 laps was not the best.

Little on the $$$ side but it's a great time!

Love going here always fun and staff are awesome

Sebastian B.
22:28 28 Sep 23

Great spot for kid's birthday parties

The girl with the color glasses was awesome and made our experience one we will not forget!

Good fun - although the track could ideally be a a little wider, the way the races are setup( for group events) is very fun. Definitely recommend going there.

Hemanth R.
16:00 16 Sep 23
Great experience! We all had a blast. Staff was fantastic. We would definitely come back next time we are in town.

I had an s amazing time but it's not too big

awesome employees my grandson loved every minute and he is autistic the employees were great, the facilities were clean we will be back

Seattle Newsletter Sign Up
Be the first to know about special events and promotions.