Corporate Events
Birthday Parties
Arrive & Drive

Fun for the
Whole Family!

BOOK NOW
WE MAKE IT EASY TO PLAN
YOUR PARTY AND CELEBRATE
WITH FRIENDS!
Birthday Fun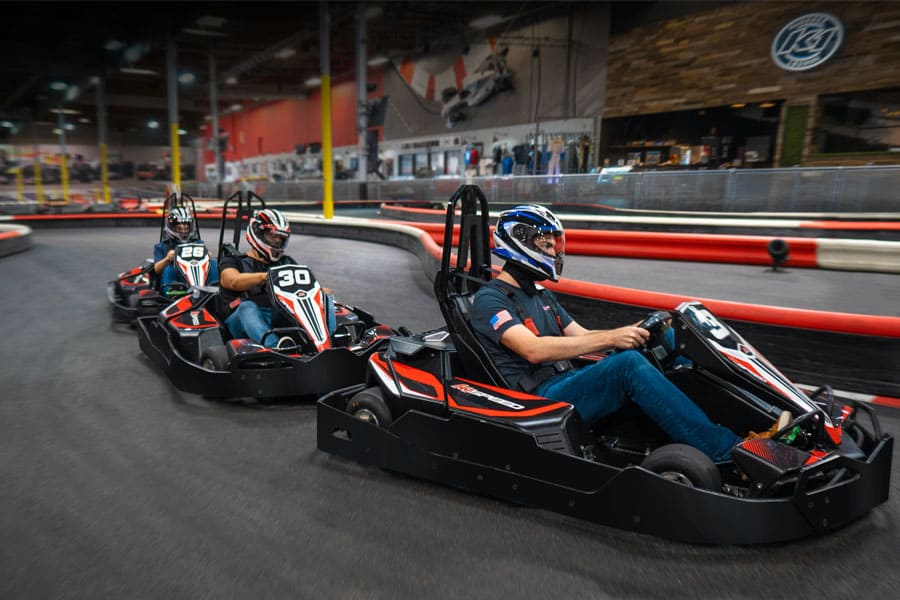 Corporate Events
Birthday Parties
Arrive & Drive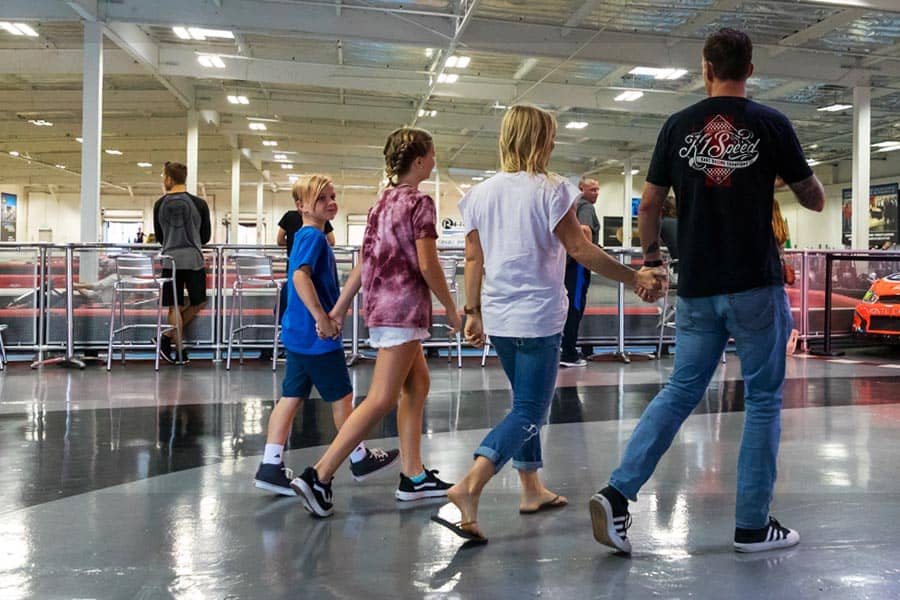 Fun for the
Whole Family!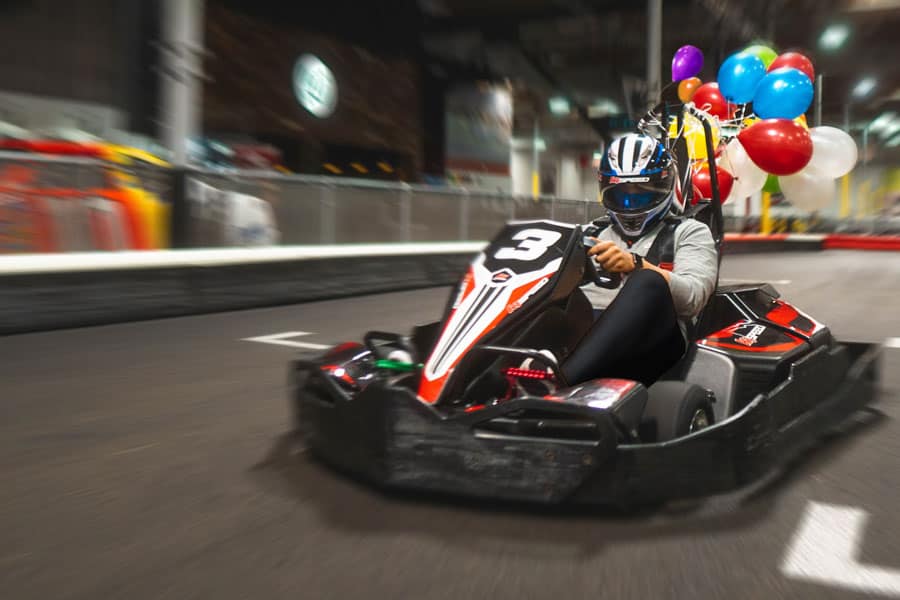 BOOK NOW
WE MAKE IT EASY
TO PLAN YOUR PARTY
AND CELEBRATE
WITH FRIENDS!
Birthday Fun

NOW ACCEPTING PRIVATE GROUP RESERVATIONS
Our go-kart racing location in Dublin, California is the place for entertainment in the greater East Bay area. Residents of Northern California will find that K1 Speed is much more than a simple go-kart track. Conveniently located near Livermore, Pleasanton, Fremont, and Walnut Creek, K1 Speed Dublin is the ideal destination for your next thing to do, birthday party, corporate function, or team building activity.
When not racing on track, competitors can relax in our spacious lobby, or grab a snack or beverage from our Paddock Lounge. We even have a museum-quality collection of authentic racing memorabilia. Make no mistake though – for the best go-kart racing in Dublin, there is no other choice but K1 Speed! Our all-electric karts offer superb performance and our locations are designed to be world-class entertainment venues.
Come in today and see for yourself!
We offer racers a number of different options to meet their needs. Rest assured, there's an option that is right for you and your group. These racing options include:
Arrive and Drive – One of our most popular race options is our Arrive & Drive package. Come in, any time of day, any day of the week, and take part in a heat with timed laps. With up to 11 other competitors on track at the same time as you, the racing action can become intense!
Corporate Events – If you would like to host a corporate holiday party, team building exercise, or some other type of corporate event, we have a number of corporate packages and corporate team building events that are tailored around your needs. Combined with our private meeting rooms, you can seamlessly combine work and play.
Racing at K1 Speed is available to individuals of all ages that meet our height requirements.  To try our electric karts for yourself, come in today. No reservation is required for Arrive & Drive races, and discounts are available when purchasing multiple races at once!
At K1 Speed, we pride ourselves on doing things differently. At our Dublin go-kart racing location, you won't find any used tires or dusty picnic tables, and you won't be racing on a worn-out and cracked track either. Further more, our karts aren't powered by tired, old lawn mower engines, and your refreshment options aren't limited to a broken vending machine in the corner, as is often the case at outdoor tracks. At K1 Speed, we do things differently.
From environmentally-friendly electric karts that offer superior performance to gas-powered alternatives to an advanced timing and scoring system that allows you to monitor your performance and lap times in real time, our goal is to provide you with a racing experience like no other. Try K1 Speed and you will forever be hooked! Believe us, our Dublin go-kart racing location will redefine what you come to expect from a go-kart track!
To experience the thrill of indoor karting at K1 Speed Dublin, simply come in today and sign up for an Arrive & Drive race. Alternatively, you may be interested in booking one of our race packages. If so, we'd be happy to help plan an event that meets your needs. We hope to see you soon!
It is the best place for people like me who like to go fast

Experience was excellent here. The lobby area is full of tables made from wheels, an F1 or Indy car up front, food and beer. A lot of fun to have a team building setup. The go-karts are all electric too so you don't have too much noise.I do find the price to time on the track a little lacking. From 12-15 laps, 3 sessions, about 20-22 seconds a lap, you're out there maybe 10 minutes. It's great, a lot of fun, and the price is understandable cause of go-karts tire costs and all thatSome of their karts are beat up, I know one I got on pulled hard to the left, which was not fun, but otherwise it was fine. If the Karts were all up to 100% quality wise honestly I would have given it a 5 star. Just some of the Karts being beat up pushed it down a star. I get it though, these karts are used daily. 100% recommend going! They also have a juniors league for younger drivers, so almost anyone can enjoy.

Ernesto L.
22:55 02 Jul 22
Gift from my son. It was my first time. I'm 70 years old. WE ARE GOING TO MAKE THIS A CALENDARED EVENT EVERY OTHER MONTH!!! WOW!!! ABSOLUTELY LOVED IT!!!

Great fun! Can't go wrong with indoor go karting. Seats left my back sore though, but so worth it

Good location and facilities in general. Staff are helpful and nice.

No matter how old I get this place will be fun

Langston W.
01:20 29 May 22
Great place to race against friends, I would definitely go again

It was so much fun. 2 opportunities to make it perfect:1- staff didn't know how many races we are allowed as an event group. We had lots of discussions to get our 3 races.2- multiple cars failures affected our races multiple times. We haven't seen any regret or action taken to remedy such inconvenience.Thanks

Today the transition to/from the track went EXTREMELY smooth and efficient. Great track experience.

Perfect party for my son's 11th birthday!

"FREAKIN' AWSOME LOCATION, VENUE, STAFF!....I HIGHLY RECOMEND IT TO ANY LIVING SOUL WHOM ENJOYS EMENSE FUN!"

Richard L.
20:28 15 May 22
A lot of fun for whole family!Personnel is motivated and friendly.Highly recommended!

Yevheniy T.
03:59 11 May 22
Dublin Newsletter Sign Up
Be the first to know about special events and promotions.