Corporate Events
Birthday Parties
Arrive & Drive

Fun for the
Whole Family!

BOOK NOW
WE MAKE IT EASY TO PLAN
YOUR PARTY AND CELEBRATE
WITH FRIENDS!
Birthday Fun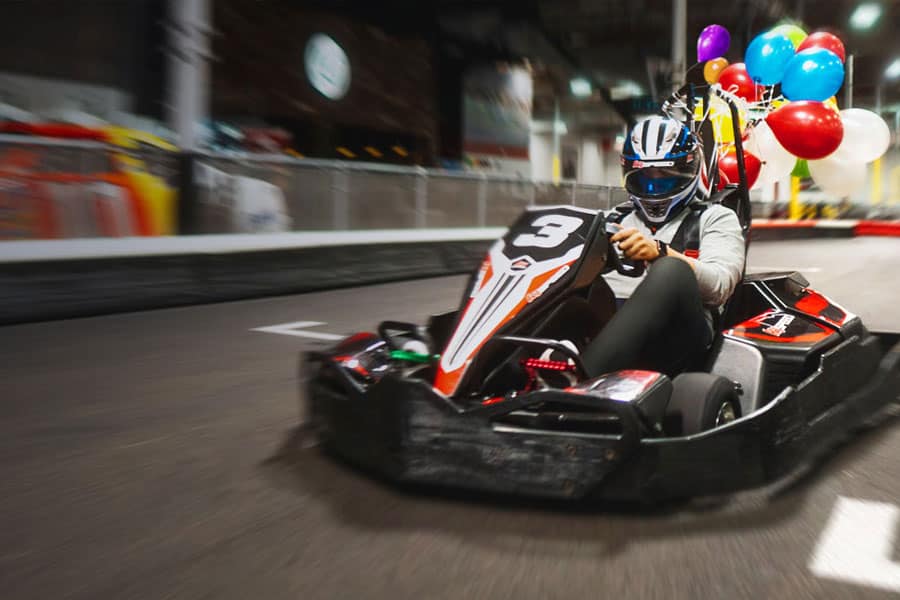 BOOK NOW
WE MAKE IT EASY TO PLAN
YOUR PARTY AND CELEBRATE
WITH FRIENDS!
Birthday
Fun!

NOW ACCEPTING PRIVATE GROUP RESERVATIONS
Indoor Go Kart Racing Miami
Home to some of the country's best beaches, a vibrant nightlife, landmarks like Westland Mall, Hialeah Park & Casino, and beautiful people of all walks of life, Miami is a dynamic and thriving city – and now it's home to America's best karting! K1 Speed Miami brings the thrill of indoor go-kart racing to South Florida. With our convenient Miami location, located 10 miles from Miami International Airport and five miles from Trump National Doral Miami, individuals from throughout the Miami area – including Medley, Miami Beach, Palm Beach, and South Beach – can experience the best there is in karting. Open to the public seven days a week, our indoor karting location is available for reservations and walk-ins; children and adults alike can race wheel-to-wheel in heated battles against other racers and the clock!*
If you'd like to experience the thrill of head-to-head racing at speeds upwards of 45mph in a controlled and safe environment, there's no other choice than K1 Speed! Walk in any time or call us to arrange a reservation. We make racing at K1 Speed Miami easy – join the indoor go-kart racing community today!
K1 Speed – The Best Karting in Miami
So what makes K1 Speed so unique? Well, where do we start? If you've never experienced indoor karting at K1 Speed, you're in for a treat. Take everything that you know about karting and throw it out the window. Since our founding in 2003, we have re-written the rules when it comes to karting. What's unique about K1 Speed? In a word, everything!
Our Karts – Instead of the underpowered, noisy, smelly gas-powered engines that you may be accustomed to, our go-karts are entirely electric. Think of our electric go-karts as the Tesla automobiles of the karting world! They are advanced, environmentally friendly, and incredibly powerful performance machines. Rest assured, once you try our electric karts, you'll never want to bother with those antiquated lawn mower-powered machines again.
Our Tracks – When you think of public go-kart tracks, you likely envision patchy and cracked asphalt, worn-out tire barriers, dirt parking lots, picnic tables, and broken vending machines. K1 Speed Miami couldn't be more different. Our indoor go-kart racing tracks are fully enclosed, allowing us to operate 365 days a year, regardless of weather. And forget about those old pitted race tracks; we have professionally designed tracks that are glass smooth, and our lounge features leather couches and plasma televisions.
Our Arrive and Drive racing option will allow you to experience the thrill of wheel-to-wheel racing in a safe and controlled environment – no reservation required! Whether you are a first-time racer or a seasoned pro, you can enjoy heated competition in equally prepared karts in races for fastest lap time. This format allows everyone to enjoy an equal chance at the podium; by eliminating the importance of your place on the starting grid, you can focus on what's most important: setting fast laps and being consistent!
As with all of our racing options, racers are provided with helmets, balaclavas (or head socks), and instruction on how to operate the kart. For our racers' safety, each kart can be electronically disconnected or slowed down should the need arise to address a concern during the race. Safety is important to us at K1 Speed Miami, as we want everyone to enjoy what indoor go-kart racing has to offer.
Special Rates and Corporate Packages
Are you planning a special event or business meeting in Miami or South Florida? If so, might we recommend one of our extremely popular reservation options? In fact, even private closures are available for a wide range of events. These include:
Our special event and corporate packages are great for groups of 9 or more people. And in addition to our reservation packages, we also offer private meeting rooms, complete with wi-fi and multimedia entertainment locations. Whether you want to have a private lunch or dinner (which can be arranged through our catering options) or you would like to round up the troops for a one-of-a-kind business meeting, our private rooms will accommodate your needs.
So what are you waiting for? Experience indoor go-kart racing at K1 Speed Miami today – we are located near Miami Beach, South Beach, and Palm Beach, in driving distance of all South Florida.
*Certain height restrictions apply. Please call for more information.
Very fun place nice staff great place to bring your kids or go with friends good well rounded spot for fun

Had such an amazing time yesterday and the staff was so accommodating and helpful. 10/10 highly recommend

We had such a great time celebrating our son's birthday with his friends. The staff was great and very organized. We can't wait to visit again.

Dax Collins (.
18:41 12 May 23
Amazing and Super fun experience!

Great experience, staff was attentive and friendly! One of the best visits yet.

Reynaldo best manager ever . With my body condition, thanks to him I was able to race with my family.

El joven Reinaldo gran servicio atento y respetuoso. Muy bueno el lugar para compartir con la familia. Volveré

Adriana Z.
23:18 30 Apr 23
Amazing birthday party experience. My son and all his friends had a great time. The host was great and very accommodating .

Really fun for birthdays, so I give it five stars

Carlos Henrique V.
20:17 25 Apr 23
Super fun!!! Service was great and their carts were in good condition!

Michelle B.
20:56 22 Apr 23
Fun and excited adventure! They also have a gaming room, restaurant/Bar area. Clean and professional staff.

Excelente lugar lleve a mi hijo por sus 17 años con sus amigos la pasaron genial y los días martes tienen 2 por 1.

deniuve Z.
00:57 19 Apr 23
Be the first to know about special events and promotions.